How To Get Out Of Vitality Assurance Vacation Club Timeshare
Vitality Assurance has over 2,500 resorts in different locations in the US and Canada. They claim to be a 4-star resort, but their previous customers might have differing views on the statement. In order to be an owner of their timeshare, you will have to buy a membership. 
You will have to pay for the membership and all the expenses of the timeshare property. Their timeshare club is quite famous in North America. 
The process of buying their membership is easy, but getting out of it is the difficult part. 
Most of their new members need to read their terms and conditions properly when signing the contract because of the pressure tactics they use to sell their timeshare.
The pictures and videos they post on their websites do not match the actual property at all.
This is how they scam their new members.
As you can tell, their timeshares are expensive. They claim to be a 4-star resort, but the condition of their rooms does not match this statement.
They will promise you that their rooms match the luxury standards, but in reality, they are just standard rooms at the price of a luxury room.
If you are having a hard time believing all of this, here is what their old members had to say about them;
This hotel was a terrible experience. I would rate this a 0. They are under construction, which is understandable, but that has nothing to do with the state of the rooms. The room was very outdated. There was water damage around the windows; the plaster was cracked and falling off. The blind would not go up. The shower was a walk-in and was terrible. Nowhere to put your toiletries. The shower head was very old and very low. The lip for the shower was small, and water leaked everywhere when you had a shower. You had to use all the towels on the floor to stop this. The bath mat was dirty. When we checked in, they said we had already checked in… when we drove 5 hours to get there, they double-charged me. I would not recommend staying here.
Don't be fooled into buying any deal with this company… their 90-minute tour is a timeshare scam! What vacation BS deal is that? They put you in a 2-star hotel at a golf resort, which is dirty. If they had mentioned at the start that this was a timeshare deal, we wouldn't have even considered staying there. The hotel tarnishes its own reputation!
With the construction going on, we were put out into the Fairways. Not what we expected. The units were old and musty. The furniture was old, the carpet was stained and had holes in it. Would not go back again.
The building is under construction, so you are only offering a room. No swimming pool, no waiting area, no nothing. And the day of my arrival the elevator wasn't working so we had to use the stairs with all the luggage.
I paid Air Canada hotels to go to a hotel, but this is a resort, so they don´t enter to clean any of the 3 days we were there. Nasty experience. Wait until they finish the construction if you want to enjoy a nice stay in a hotel. I wouldn´t have gone here if somebody had told me about the situation.
 If you want to read more of these reviews, please visit TripAdvisor or BBB.org.
If all of this sounds familiar to you, then you have fallen into their trap. Stay calm if you have signed a timeshare contract with them and do not know how to cancel it. Keep reading this article to learn how to cancel your Vitality Assurance Vacation Club Timeshare.
Vitality Assurance Vacation Club Timeshare Grace Period
You must review your membership contract and look for the grace period if you are a new member. 
The grace period provided by the resort is within which new members can cancel their membership.
In order to cancel the contract, you need to write a cancellation letter.
As per the Vitality Assurance Vacation Club's policy, they will have to give you a full refund on your contract.
Thoroughly read your contract and look for the grace period if you are a new member.
Mention all the issues you have in the cancellation letter.
Make sure your letter is formally written and states valid points.
Get help from their old members, read reviews, or hire a lawyer to help you write the letter.
If these options will waste your time, you should contact our team. Contact us so we can help you write the cancellation letter. Read through our website if you have any queries about us, or contact us to gain any knowledge.
What If The Grace Period Has Ended?
You can still cancel your timeshare contract after the grace period has ended, but it might take some time to do so. After the grace period has ended, the cancellation letter becomes a bit more complicated.
You need the right reason to cancel the contract.
If your reason needs to be stronger to cancel the contract, they will reject the letter.
Many customers have also said that the resort has yet to respond to their letters.
If you want to make sure that the contract gets cancelled, you will have to work with an exit company.
An exit company understands the timeshare contracts better than the owners.
They have previous experience and know what steps to take to get you out of the contract.
The timeshare owners often ignore the terms and conditions of their timeshare contract, but an exit company will not. 
Even though a timeshare exit company can help you get rid of your timeshare property, you still need to be careful, as exit company scams are common in the timeshare industry. Exit companies have gained fame in recent years, which is why people have started scamming timeshare owners in the name of exit companies.
Scams are common in the timeshare industry. Everyone in the industry is misleading, dishonest, and unprofessional! They promise the moon but deliver nothing but heartache and disappointment.
In recent years, there has been a dramatic increase in the number of companies offering timeshare owners a substantial amount of money for their timeshares through online ads and telemarketing scams. 
The Federal Trade Commission estimates that over 2,000 fraudulent companies operate in the U.S. alone, most of which are based in India.
These unscrupulous companies use deceptive sales tactics to entice people to sell or cancel their timeshares.
Scams start from the very first day. When these timeshare companies approach you to sell their timeshares, they form lies to lure you in.
Timeshare companies lie about the price of the timeshare, hide your legal rights from you and never mention the hidden expenses.
Here are a few exit company scams you need to look out for;
Rental Scams:
With everything from "listing services" to elaborate websites dedicated to renting timeshares on behalf of owners, there is no shortage of opportunities for scammers to take advantage of unsuspecting individuals. Because of the popularity of timeshare rentals on sites like Airbnb, there is a common misconception that it is easy and safe to rent out your timeshare through an online classified site like Craigslist or eBay.
But what happens is the scammer will try to sell you a "guaranteed rent" plan that will make you money by renting your timeshare while you are not using it. This sounds great in theory, but it often only leads to frustration and financial loss. 
Common traits of this scam also include high-pressure sales tactics, shady guarantees, and promises of high rental income. 
These scams can be particularly hard to distinguish from those conducted by legitimate companies since many copycat sites look similar to real online listings and may even have an established track record of success.
Resale Scams:
There are numerous timeshare scams every year; protect yourself. Contact our team so we can help you determine if a timeshare exit company is legitimate, and we recommend working with timeshare exit companies that offer escrow so you pay no up-front fees. Know your legal rights so you can exit your timeshare. A timeshare resale scam can involve cold calls from people you have never heard of or spoken to! 
They normally offer you more than the sum you initially paid for your timeshare to get your attention.
Whenever you have consented to sell your timeshare to them, they will request a false charge to cover any "transfer fees" or "paperwork fees." 
You'll pay this fake expense, and the organisation will vanish with your cash and never purchase your timeshare. 
An organisation by the name of Global Business Consultants recently ran this scam.
Numerous timeshare resale scams work the same way. Timeshare resale companies will cause you to believe that your timeshare has worth, and you should simply pay them an upfront "listing" or "promoting" fee to sell your timeshare. 
Once you've paid this expense, there is an excellent possibility that nobody will purchase your timeshare. 
This means they have run off with your money!
The most secure way to sell your timeshare is through an authorised broker since they are not permitted to charge and sell it. 
Nonetheless, timeshare brokers work on commission, so if your timeshare has no worth, as many don't, a timeshare representative won't have an urgency to sell your timeshare.
Exit Company Scams:
Exit company scams are common, too. 
Exit companies that do not offer escrow are often scamming you. They will take money from you, and then they will vanish.
Escrow is a third party holding your money until the exit company completes their work.
Escrow eliminates any doubts a timeshare owner may have when looking to exit their contract. With escrow, you still pay fees to a third-party company. 
This helps protect not only the customer but the company as well. If the exit company fails to hold its end of the bargain, the company will lose it's reputation. 
Escrow is an extra layer of protection compared to a 100% money-back guarantee. A 100% money-back guarantee may be right for you if the company you are evaluating has been in business for quite a while and has ethical business practices. Keep timeshare exit companies that provide a 100% money-back guarantee; these companies could be far cheaper than those that offer escrow.
Escrow may sound like a better option, but most timeshare exit companies typically don't like to mention they have an escrow option. 
Going through the escrow route can be expensive because the timeshare exit fee increases when a third-party company comes into the picture.
Most timeshare exit companies take around 8-12 months to cancel your contract, and if a company essentially has to wait 8-12 months to get paid, they charge a higher fee for their escrow customers. 
That being said, it's fine to go with a company that provides escrow because you can take comfort in knowing that you're covered if anything goes wrong.
We always recommend you haggle the price a little for a better bargain. Never agree with the first quote. There have been dozens of cases where timeshare exit companies start at a $10,000 fee and end up cutting down to $5,000. That's 50% off! It can never hurt to negotiate the price a little; it only can benefit you. 
We started this review site hoping to increase your awareness when dealing with timeshare exit companies. 
Read over our website, fill out the form on the right, or initiate a live chat with us for a free personalised exit consultation. 
Our team will help connect you with a timeshare exit company with no up-front fees until your timeshare contract is cancelled. There are hundreds of timeshare scams every year. Protect yourself from becoming another victim.
Contact us now so our team can help you get rid of your Vitality Assurance Vacation Club Timeshare.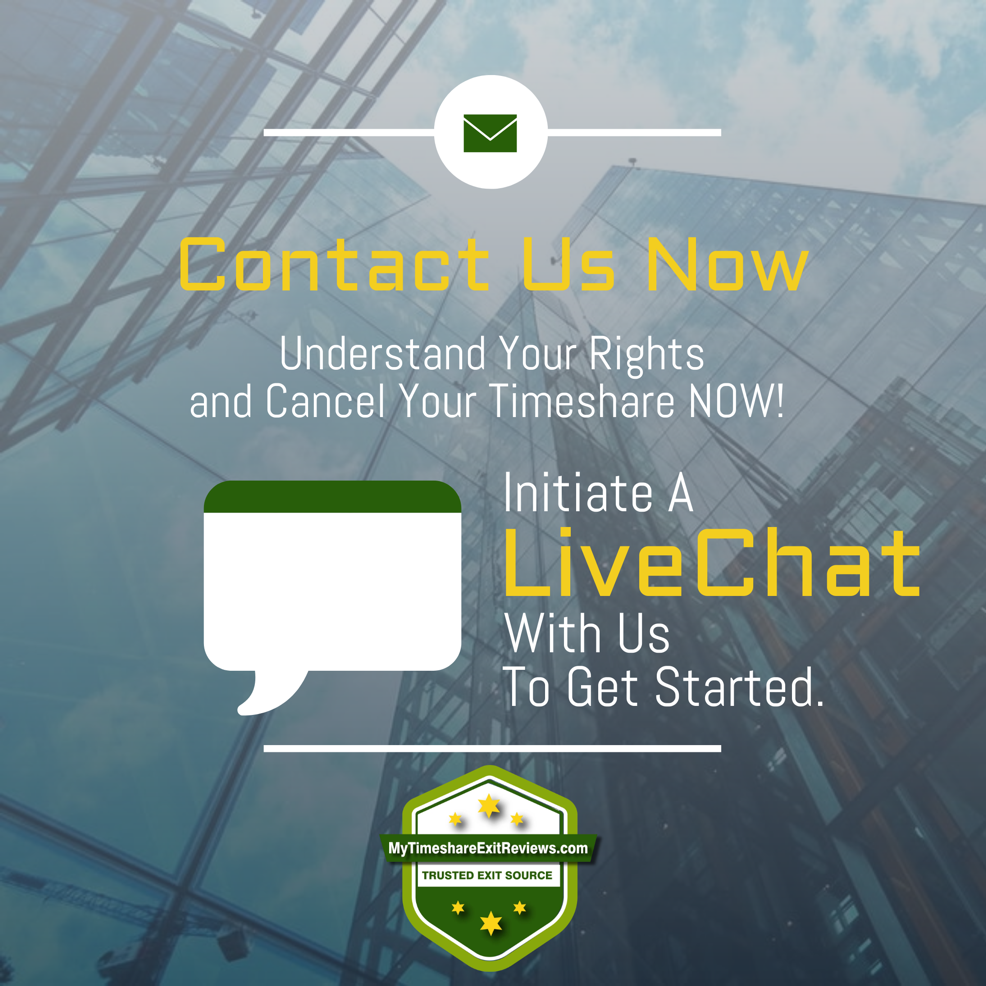 There are no reviews yet. Be the first one to write one.
Free Informational Consultation
By providing my contact information and clicking 'submit', I am giving MyTimeshareExitReviews.com and its partners permission to contact me about this and other future offers using the information provided. This may also include calls and text messages to my wireless telephone numbers. I also consent to use of emails and the use of an automated dialing device and pre-recorded messages. I understand that my permission described overrides my listing on any state or federal 'Do Not Call' list and any prior listing on the 'Do Not Call' lists of our partners. I acknowledge that this consent may only be revoked by email notification to info@www.mytimeshareexitreviews.com.
FREE Timeshare Exit Guide
Timeshare Laws Regarding Cancellation
Free Timeshare Exit Cost Assessment