How To Cancel An Embarc Resorts Timeshare
Embarc Resorts has vacation homes in a lot of locations. The resorts can be found in popular ski, beach and golf destinations like Whistler, British Columbia; Zihuatanejo, Mexico; and Palm Desert, California. The resort aims to provide "Affordable luxury at public ski, beach and golf resources." Their membership is points-based. Your membership provides you with points. You can use these points to stay at any of their locations. The more points you earn, the more accommodations you will receive. 
Embarc Destinations; 
Whistler, British Columbia. 
Vancouver, British Columbia. 
Ucluelet, British Columbia. 
Panorama, British Columbia. 
Blue Mountain, Ontario. 
Tremblant, Quebec.
Palm Desert, California.
Sandestin, Florida. 
Zihuatanejo, Mexico.
They have their resorts in the US, Canada and Mexico. If you are looking for ways to exit their timeshare contract, you are at the right place. This article will provide you with the following information;
What are the Timeshare Exit Laws in these locations?
What do you do if the cooling-off period is already over?
Embarc Exchange Program.
Timeshare contract loopholes.
If you want to cancel your Mexican Timeshare contract, keep in mind that,
The rescission period in Mexico lasts five business days.
In order to cancel the contract, you need to write a resignation letter within the resignation period.
To cancel a timeshare in Mexico, familiarise yourself with Article 56 of the Federal Consumer Protection Law, applicable to both Mexican citizens and visitors.
Write a detailed handwritten cancellation letter, including names, dates, contract numbers, purchase dates, and contact information.
Explain in the letter how you were a victim of high-pressure sales tactics.
Reference "Article 56 Consumer Protection Law" in the letter to ensure the resort recognises the legal basis for your request.
Mail or hand-deliver the cancellation letter to the resort as the law requires.
If the rescission period has ended, you still have other options, so do not panic. Read the article linked below to learn more about timeshare exit options in Mexico.
Mexico might have been a great vacation destination. But if you signed up for a timeshare in Mexico, you may be in for some tough news. Timeshares in Mexico can be a hassle with the increasing maintenance fees and monthly costs. And let's remember that constant phone calls are necessary to upgrade your timeshare for more money. If you want to know more about how you can get rid of a timeshare property in Mexico, give read to How To Cancel A Timeshare In Mexico.
If the timeshare property you bought is located in the US, you need to act quickly. The rescission period in the US is quite short.
The rescission laws in the US state that the rescission period mostly lasts 3 business days, until midnight of the 3rd day.
So, if you bought your timeshare property recently, you need to hurry up!
Keep in mind that the Rescission State Laws in the United States vary because each state decides the length of its rescission period. 
The rescission period can be as short as three days (like in Indiana and Massachusetts) or as long as 15 days (like in Alaska). 
Check your rescission state laws to know if you can still "rescind" your timeshare contract.
Learn How To Get Rid Of A Timeshare Legally by going through our website, or if you want to save the hustle, contact our team to get more information.
As for Canada, the timeshare exit laws are quite similar to the ones mentioned above.
In Canada, the cooling-off period can vary by province or territory.
Usually, the rescission period lasts 5 to 10 days.
Some provinces may have shorter or longer rescission periods, and the cancellation policy conditions may differ.
The rescission letter is necessary in Canada as well.
You need to write a formal letter to the timeshare company if you want to avail the opportunity.
What Can You Do If The Rescission Period Has Ended?
There are a few more ways to eliminate your timeshare property after the rescission period has ended;
You can sell the property.
If you want to sell your property, you need to follow a procedure. The first you need to do is determine the value of your timeshare property. 
In order to do that, compare your timeshare property to similar properties. Similar in terms of locations, number of rooms, etc. 
After that, put your property on the resale market. If all of this looks like a lot of hustle, hire an exit company that offers escrow. 
Scams related to exit companies are increasing day by day, so you need to be careful. Contact us to help you find a reputable exit company to work with.
You can rent out the property.
You can even rent out your timeshare property if you do not want to sell it. Renting out your timeshare property is a good option, too.
This is possible only if the timeshare company allows it. You need to review your contract thoroughly or contact the company to determine if they allow renting the property.
Next, you must look for potential renters after putting it on the market.
Ensure you offer a fair price and a good description, mentioning all the important points. It is important to have an impressive description to attract renters.
Donate Your Property. 
You can donate your property to charity or anyone you know who needs the property.
Even though it is hard to donate the property because of its maintenance costs and other expenses, you could donate it.
Trying never hurts, so try all the options and never give up.
You can even give it to someone willing to take up the ownership. Someone who wants to take over the property without expecting any kind of compensation in return. 
Some companies offer exchange programs allowing you to swap your timeshare for a different destination or resort. Research reputable exchange companies and explore this option if it aligns with your vacation preferences. Embarc Resorts offers exchange programs to its customers. As stated in the Exchange Program Guide,
"Owners may exchange Planned Time Weeks for exchange points ("Villas Exchange Points") that can be used to travel to Embarc locations or select hotel and resort partners. This program is called the "Villas Exchange Program", and the Embarc locations and select hotel and resort partners available through the Villas Exchange Program are called Exchange Program Destinations".
If the other exit options are not working out for you, you can exchange your timeshare property. Remember that this option will not help you save money as you will still have to pay the mortgage and all the additional charges of the other timeshare property. So, if you are not financially challenged, go for the exchange program.
Even though exchanging your timeshare is an option, we recommend not using it. Timeshares are worthless and expensive at the same time. If you own a timeshare at Embarc Resort and then exchange it for one at another resort, the expenses will still be the same or more if the location or the resort is in demand. Here are some reviews we found from Embarc Resort's previous and current customers;
Been a member since 2010. Can almost NEVER get a vacation reservation over a holiday period. Seems like "insiders" have access to the reservation board long before owners. Now, in 2022, HOA fees are raised by another 4%. No one in customer service can help and pass the buck to Diamond Resorts. Just a horrible mess and experience. No one is available to answer substantive questions. With the ownership passing to Diamond Resorts, it has become a nightmare experience… and now Hilton owns, with NO communication from them except "welcome". Corrupt BODs elect themselves year after year, with no accountability nor availability to owners.
Recently, I tried to book one night (May 6, 2022) with my points but was told there was no availability and that I could not book a single night. However, when I went online to look for a room, several units were available at Embarc Palm Desert if I wanted to pay for the room. I decided to pay for it on Expedia, but I do not understand why a member could not book a unit with points.
Recently, I reviewed my statements and found that what the company claimed about the increment of resort dues was not true. They claim the resort dues were increased from 7.19/pt to 7.31/pt, an increment of 1.7%. But from what I checked on my bank statements, the resort due actually jumped from 7.16/pt to 7.31/pt, an increment of 2%. This may seem marginal, but if you think a hidden 0.3% is added on, who knows how many hundreds of members? How much money are they actually getting out of this…I can't even imagine. On top of that, this is only my second year with them; God knows how long they have been playing this trick on their members. I would like to raise this awareness to all the members out there.
If you want to read more of these remarks, you can read them here: Embarc Resorts Reviews. Reading these will give you another reason to cancel your contract immediately. These timeshare companies are only here to earn money by scamming you. 
Timeshare contract loopholes
Your timeshare contract contains loopholes. These loopholes are either in your favour or completely against you. Loopholes like;
Hidden additional costs.
Non-availability of the timeshare.
Hidden clauses that are not in your favour.
These loopholes favour the timeshare company and help them make more money. They mislead you by not mentioning the annual increase in timeshare expenses or hiding the actual value of the property.
While there are loopholes that can act in your favour. 
Understanding the contract is a difficult job.
In order to understand your legal rights and the clauses that are in your favour, you need to hire an attorney.
A timeshare lawyer can better understand the contract and guide you about the next step.
You can hire an exit company as well.
But be aware of scams. Scams are common in the timeshare industry. Attornies and exit companies can scam you by promising you to get rid of the timeshare. But, as soon as they receive the money, they disappear. 
We want you to avoid falling into their traps. If you want to save yourself from these scams, research properly. Review our website and read about the scams to avoid making the same mistakes the previous owners made. If you do not want to waste your time reading the articles, contact us so our team can guide you through every detail.
Our mission is to eliminate scams in the timeshare industry. We review timeshare exit companies and help timeshare owners find the best exit company for their situation. When approaching an exit company, make sure they offer escrow.
Escrow can be essential for you when searching for a timeshare exit company.
Escrow is when a third-party company holds onto your payment while the timeshare exit process is occurring. 
If all is successful as promised, the escrow company releases your funds to the timeshare exit company.
Many timeshare exit companies boast about their 100% money-back guarantee. If the company goes out of business or if they file bankruptcy, will they still refund you your money? The answer is, unfortunately, no. 
Since escrow is when a third-party company holds on to your money while the timeshare exit company performs the service, it gives you peace of mind.
Escrow is valuable when there are exceptionally enormous fees involved. 
We help timeshare owners find the best timeshare exit company for their situation. Read over our website and fill out the form on the right, or contact us through Live Chat for a free personalised consultation. Our team recommends working with legitimate timeshare exit companies that offer a no-up-front fee escrow option.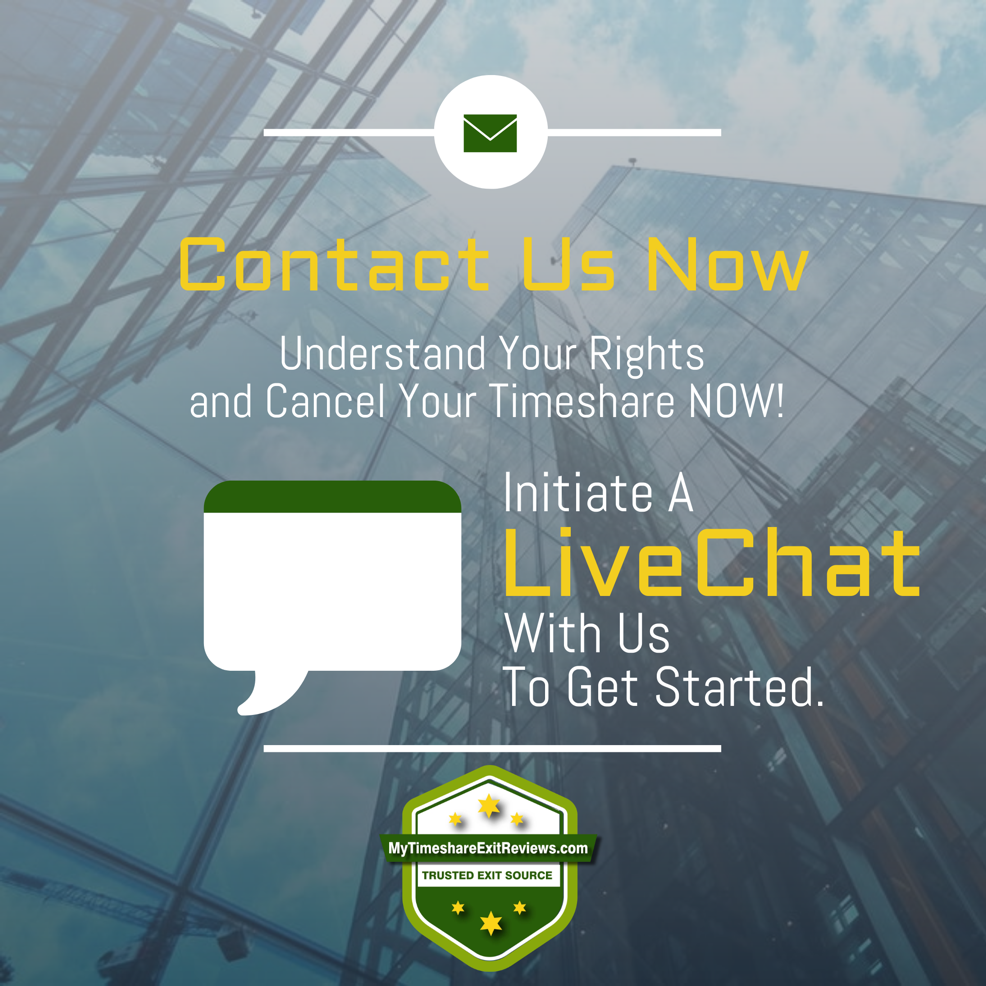 There are no reviews yet. Be the first one to write one.
Free Informational Consultation
By providing my contact information and clicking 'submit', I am giving MyTimeshareExitReviews.com and its partners permission to contact me about this and other future offers using the information provided. This may also include calls and text messages to my wireless telephone numbers. I also consent to use of emails and the use of an automated dialing device and pre-recorded messages. I understand that my permission described overrides my listing on any state or federal 'Do Not Call' list and any prior listing on the 'Do Not Call' lists of our partners. I acknowledge that this consent may only be revoked by email notification to info@www.mytimeshareexitreviews.com.
FREE Timeshare Exit Guide
Timeshare Laws Regarding Cancellation
Free Timeshare Exit Cost Assessment