How To Get Out Of Fantasea Resorts Timeshare
Fantasea Flagship Resort is located in the Atlantic City Boardwalk, New Jersey, United States. They offer a large number of amenities and services to their customers. These amenities include;
Roof-top pool.
Two hot tubs on the upper level of the resort.
Dining at Blue Water Grille.
The arcade to play video games, air hockey, etc.
A bar.
There are spas, too and a lot of other services and nearby places to explore. This resort is a great choice if you want to enjoy a good vacation near the sea. But if you are reading this, you must be a timeshare owner who wants to get rid of the property.
Here are a few reviews we found about them;
Rooms need to be updated. Fake wood floors are worn out. The beds are too small. Furniture is worn out and discoloured. The tub and mirror are stained and discoloured. Housekeeping refuses to clean when called for. Guests have to clean their own rooms and change their own bedding.
Rooms are in desperate need of replacing filthy, worn carpeting & living area furniture. I made sure we were always wearing footwear to avoid walking on carpeting. The evening noise level was terrible due to outdoor beach concerts, multiple evenings, & adjacent rock clubs.
This place was absolutely horrible. The sofa looked like it was thirty years old and had been found on the side of the road. I was afraid to sit on the kitchen chairs because I might catch an STD. The remote for the TV was so sticky with who knows what that we called to get a new one. I was shocked at how outdated all the rooms were after looking at the rooms on the RCI website. We definitely were a victim of the bait-and-switch scheme. I am so disappointed in RCI. I would not recommend anyone to use them. The RCI website shows one thing, and then the resort gives you another.
If you want to read more of their reviews, kindly visit TripAdvisor. 
This article will elaborate on timeshare cancellation policies and how to rent out your timeshare, sell it or give it away. It also includes information about what type of timeshare exit companies you should work with and how to save yourself from scams. Keep reading to learn more.
Timeshare Cancellation Policy
Rescission period' can help you get out of your timeshare contract if the property was recently bought. The rescission period is a specific time limit mentioned by the developer in your contract. You can find the rescission period at the end of the contract or the beginning. If your rescission period has not ended, you will have no problem returning the property to its developer.
The time limit may vary from location to location, but it usually lasts 3 to 10 days. In this period, you can cancel your timeshare contract without penalty, or you might have to bear a small loss, which solely depends on the policies of the property you purchased.
Suppose you feel like the property may decline in value in the future, or you think it is more expensive than it should be. In that case, you should look into the mentioned rescission period and return the property to the developer.
The rescission period in the United States is 3 business days at max. So, if you want to cancel your contract, you need to act fast.
Cancelling your contract within the rescission period requires you to write a formal letter to the timeshare company, which can be sent through any social platform so that there is proof of delivery.
The letter requires a few basic things like your name, contact details, rescission period, cancellation request, signature, contract copy or other relevant documents, etc.
If you do not know how to interpret your contract or the rescission period has ended, we recommend you seek legal advice by consulting an attorney. If not, you can contact us for further guidance. 
Rent Out Your Fantasea Flagship Resorts Timeshare
The first thing to do is to ask the timeshare company if they allow the rent out of the property. As far as we know, Fantasea Resorts do allow their timeshare owners to rent out their properties. Here is what you need to do if you want to rent out your property;
Start by researching the current market rates of similar timeshares to understand the prices. Understanding the value of your property is very important.
The next thing you need to do is make your property look presentable. If your timeshare looks neat and clean, it will attract more renters.
Afterwards, ensure you take high-quality pictures and prepare a good description when listing your timeshare for renting.
As soon as the property attracts potential renters, you can earn a good amount from it, which will help you pay the property's mortgage, maintenance fees or any other charges. So, the property will be paying for itself.
You can even ask your family members or friends to rent the property occasionally, or they can help you advertise it and spread the word in their circle.
Renting out your timeshare can be difficult. There are websites like Airbnb or Booking.com that will help you advertise your property and list your timeshare for rent. Or you can ask for help from the timeshare company. Fantasea Resorts offers properties for rent on their website. Visit the attached link to learn more.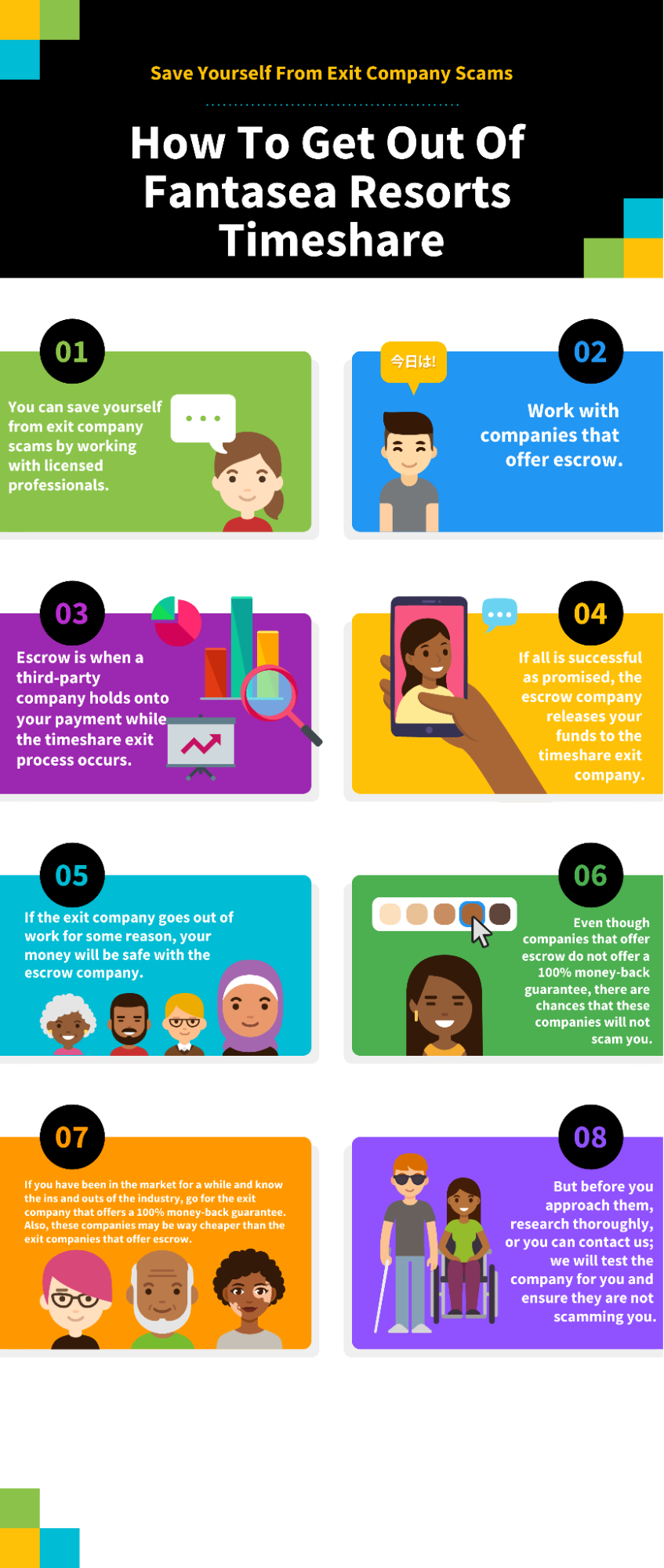 Sell Your Fantasea Flagship Resorts Timeshare
If you want to sell the property rather than rent it out, you will have to do a little more hustle. Selling a timeshare property is difficult and frustrating. It takes a lot of time and energy. If you want to sell the property by yourself, you will have to follow the following steps;
Evaluate the current market to decide the selling price.
The timeshare properties lose most of their value right after you buy them, so do not expect to make a profit or sell them at the same price you bought them.
Set a fair price and start promoting your property on resale websites.
Prepare a good description, and mention all the amenities and services, as well as the location and nearby facilities.
A good and truthful description will help you attract buyers who will agree to your mentioned price.
Be open to bargaining, and do not be afraid to mention your demands.
Be confident about the price of your property, and be patient to get a good deal according to your demands.  
All of this can be overwhelming if you try to do it alone. If you need to gain experience selling timeshares, seek professional help. Approach exit companies or hire a timeshare lawyer to guide you. 
An exit company will help you decide the best option to get out of your timeshare contract.
They will help you prompt and sell your Fantasea Resorts Timeshare.
Exit companies hire professionals to help customers get out of their timeshare contracts.
Even though they can be expensive, investing your money here is better than wasting it annually on your timeshare property.
Find a trustworthy exit company to work with. Our website will help you look for a reputable and legitimate exit company. Read through the website; you will find reviews about all the exit companies. Exit companies that provide escrow services have proved to be the best ones so far. Make sure the company you decide to work with offers escrow.
Give Away Your Fantasea Resorts Timeshare
If you do a little research, you will get to know that people are also giving away their Fantasea Resorts Timeshare for free. Read Free Fantsea Resorts Timeshare to know more. 
If you are not looking to make any money from your timeshare property, you can sell it for free.
If you want to give away your property, list it on the resale websites or websites offering free timeshares.
Selling the timeshare might be hard, but giving it away will not be.
Giving the property away will help you eliminate its annual expenses, at least.
You will not have to pay the mortgage or any maintenance expenses once someone decides to take it from you.
So, if you are not looking for any financial advantage, give away your Fantasea Resorts Timeshare.
If you need help figuring out how to give away your timeshare, contact our team to guide you. We will help you understand the process of giving away your timeshare and guide you throughout the process.   
Save Yourself From Exit Company Scams
The timeshare industry is full of scams. Our mission is to eliminate scams in the timeshare industry. We review timeshare exit companies and help owners find the best exit company. Apart from exit companies, resale and rental companies are also famous for scamming people. Read Timeshare Exit Company Scams to help you understand how these companies scam people and disappear with their customers' money.
You can save yourself from exit company scams by working with licensed professionals. 
Work with companies that offer escrow.
Escrow is when a third-party company holds onto your payment while the timeshare exit process occurs. 
If all is successful as promised, the escrow company releases your funds to the timeshare exit company.
If the exit company goes out of work for some reason, your money will be safe with the escrow company.
Even though companies that offer escrow do not offer a 100% money-back guarantee, there are chances that these companies will not scam you. 
If you have been in the market for a while and know the ins and outs of the industry, go for the exit company that offers a 100% money-back guarantee. Also, these companies may be way cheaper than the exit companies that offer escrow.
But before you approach them, research thoroughly, or you can contact us; we will test the company for you and ensure they are not scamming you. 
Ultimately, our team recommends working with legitimate timeshare exit companies that offer escrow because the company only gets paid once the service is completed as promised. Very few companies honour their 100% money-back guarantee, and these companies typically have secure financial assets. But why take the risk when there are reputable companies that you can trust that offer escrow? Also, keep in mind that going through the escrow route can be expensive because when a third-party company comes into the picture, the timeshare exit fee increases.
All the options we discussed above will help you eliminate your timeshare property. But if you are inexperienced and still need clarification about what to do with the property, do not panic; our team will help you. Contact us so we can help you understand your situation and develop relevant solutions to your problems. 
Our My Timeshare Exit Reviews team aims to help you find legitimate exit companies and save you from scams. 
Our review site will provide helpful tips for dealing with timeshare developers and give insight into how timeshare exit companies operate.
Fill out the form on the right side of our page, and let's get started. Or feel free to contact us through Live Chat for a free personalised exit consultation.
Many people are being scammed every year by timeshare companies; we do not want you to be one of them. 
Do not become another victim to these scammers. 
Before you take any steps, ensure that you contact your timeshare company first. Many timeshare companies offer a buy-back program in which you can return your property back to its developer. They will not give you a full refund, but the process will be easier than getting rid of the property on your own. If that is unsuccessful, feel free. Our team has prepared a list of questions to ask other timeshare exit companies to assess if they are reputable. And remember, when dealing with any exit company, never accept the first quote they try to offer you. It can always be good to try to lower the initial price. Many exit companies offer a high price initially, but if you bargain correctly, they will go lower.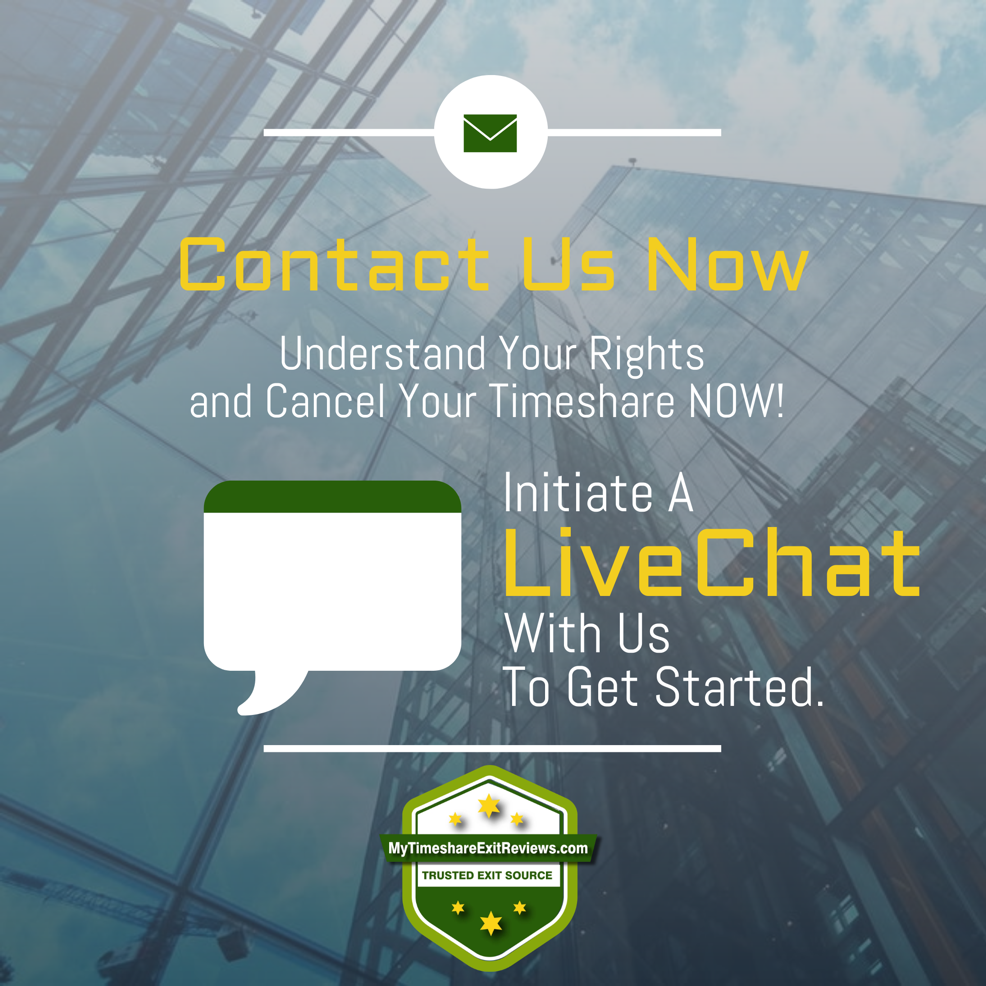 There are no reviews yet. Be the first one to write one.
Free Informational Consultation
By providing my contact information and clicking 'submit', I am giving MyTimeshareExitReviews.com and its partners permission to contact me about this and other future offers using the information provided. This may also include calls and text messages to my wireless telephone numbers. I also consent to use of emails and the use of an automated dialing device and pre-recorded messages. I understand that my permission described overrides my listing on any state or federal 'Do Not Call' list and any prior listing on the 'Do Not Call' lists of our partners. I acknowledge that this consent may only be revoked by email notification to info@www.mytimeshareexitreviews.com.
FREE Timeshare Exit Guide
Timeshare Laws Regarding Cancellation
Free Timeshare Exit Cost Assessment