Omni Ellis is a timeshare exit and transfer company that is based out of San Francisco, California. The company has been in business for about 6 years now, since 2015. Omni Ellis just might be able to help you eliminate your timeshare mortgage and maintenance fees. But as our team at MyTER carefully reviewed the company, we discovered shocking news. 
The first thing that stood out is the statement Omni Ellis makes, "if the company fails to remove you out of the contract, you will not have to pay them a fee". This statement translates to being a 100% money-back guarantee. The company also offers a simple exit process, in which they state:
"We take care of each step during your timeshare transfer, so you don't have to. After the order for your timeshare closing is placed, we ask that you complete a few simple forms allowing us to work with the resort and county agencies to facilitate the transfer of title to or from your name".
But if you're looking to work with Omni Ellis, there are a few things that each timeshare owner should be aware of before working with them, or any timeshare exit company. Initiate a Live Chat or fill out the form on the right to find out how you can protect yourself from potential timeshare exit scams.
Update February 2022: As of February 2021, many clients have claimed the company has not helped them remove their timeshares and have filed complaints with the Better Business Bureau.
As our team looked deeper into the reviews, we discovered that most owners would mention a lack of communication from the staff. Case managers suddenly would disappear. Others say emails or phone numbers would no longer. And all these complaints mention the issues would begin once they've paid money up-front.
The Better Business Bureau also conducted a review of the company's complaints in April 2021. The BBB sent the company a letter during that time and got a response that Omni would address the unanswered complaints. Unfortunately, to this date the this has not been provided.
As a result, their BBB accreditation has been revoked. And the company has been given an "F"-rating with a 2.52/5-star rating.
The California Business Search function of the CA Secretary of State says their current business status is "FTB Suspended."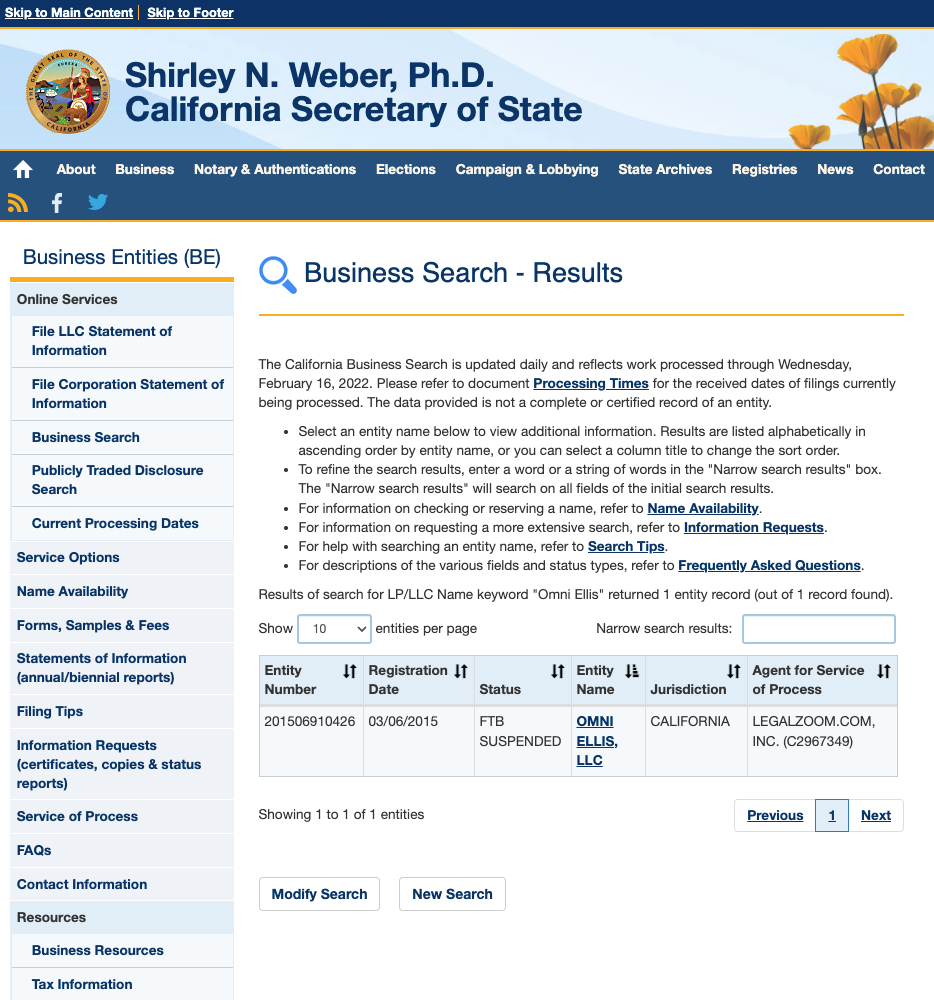 This indicates that the company has had its operating privileges suspended in the State of California and can no longer work legally.
One source our team came across proposes that Omni Ellis is affiliated with Axios Consulting Group, an Indiana-based organization. The names Steven and Andrea Badue, Roger Altamirano, Erin Jackson, and Peter Tracey are all mentioned. The BBB passage for Axios states that they "possibly are associated" with Omni Ellis. The Indiana Secretary of State registered Erin D. Jackson as the owner of Axios.
The Better Business Bureau states that Axios' BBB Accreditation has been revoked. This is what they say about the matter:
Roger Altamirano is listed as an officer of Omni Ellis on OpenCorporates.com. The Nevada Secretary of State lists Roger Altamirano of Riverside, Calif., and Andrea and Steven Badue, each of Indianapolis as the registered officers for Omni Ellis. The company is registered at 1810 E Sahara Ave, STE 214, Las Vegas, NV, 89104.
Many corporations from different states form LLCs in Nevada due to the fact taxes are low, policies are permissive, and proprietors can pick to be anonymous.
We suggest you do your own due diligence on Omni Ellis. Our team does NOT recommend Omni Ellis until they help all the owners they are working with.
Something that stood out to our team is the 'FAQ' page. The frequently asked questions page has common questions and answers that timeshare owners may have. Omni Ellis does state they accept resorts in United States, Mexico, Europe, and the Caribbean, which is a +1 from our team. Many timeshare exit companies only deal with resorts in the United States, putting some timeshare owners in a tough position. 
In America, 1 out of 8 households currently own a timeshare. The timeshare industry is growing at a rapid pace, and many timeshare owners have fallen victim to exit scams. We advise all timeshare owners to carefully assess the credentials of each timeshare exit company or have our team find the best timeshare exit company for your situation. Fill out the form on the right or initiate a Live Chat to determine if Omni Ellis is the right timeshare exit company for your timeshare situation. 
On various platforms, many clients have stated that after being quoted a fee by Omni Ellis, they had a few days to decide, or the quoted price does not stand.
Many exit companies want you to sign up for their services immediately and this is something our team disagrees with. When you first purchase a timeshare, you were pressured, why would you want to pay thousands up-front and feel the same pressure? We'll let you decide if this is a good sales tactic by the company.
Read more about Omni Ellis cost and fees below. Once again, our team only recommends working with an exit company that offers an escrow option. Using escrow can help protect you from timeshare scams and from losing thousands of dollars!
Omni Ellis does not offer a no up-front payment escrow option as we would have liked, but the company does offer a 100% money-back guarantee. As our team spoke directly with Omni Ellis, a representative of their company stated they could take on every timeshare and passed me a contract over without assessing our case.
This is something we do not approve of because how is the company so positive they will cancel a specific timeshare contract? We advise you to be careful of companies that rush in and want your money.
Another interesting statement our team read on the website was Omni Ellis would help timeshare owners get rid of:
Timeshare Mortgage
Special Assessment Fees
Annual Maintenance Fees 
As you may be aware of the resale market for timeshares, most timeshares are listed for $1 on websites such as craiglist.com or ebay.com. There is no value for timeshares anymore, and it's due to the low pricing of hotels and different travel outlets. Omni Ellis does not use attorneys, and as we mentioned before, the legitimate way to get out of a timeshare contract is by using an attorney. We advise anyone to be careful if a timeshare exit company is doing business without an attorney, they usually are not legitimate. 
The average time to transfer the timeshare according to a specialist at Omni Ellis is roughly around 3–12-month period. It depends on your timeshare contract details and the developer of your contract. Omni Ellis does have few commercials over the internet and TV. There is nothing out of the ordinary here, but the commercial did state the company has helped over 15,000 timeshare owners get out of their contract, that is a +1 from our team. If a timeshare exit or transfer company has a high success rate, that is always a positive sign. 
There was no clear explanation of the process Omni Ellis uses to help transfer or exit your timeshare, but the company does provide a free consultation. Omni Ellis makes an essential statement as shown below:

After our team spoke directly to an Omni Ellis representative, the contract that was sent to us was priced at $3000, after reading through the contract, the company states there can be additional costs depending on your timeshare developer. To give you an estimate, the service fee for Omni Ellis ranges from $3000-$6000 based on multiple reviews. 
Omni Ellis has a decent price point compared to other timeshare exit companies. Paying a timeshare exit company can be beneficial in the long run. Timeshares typically have high-interest rates, and you would be paying a lot more if you stayed in your timeshare contract. 
Omni Ellis has an F rating on the Better Business Bureau, and they are NOT a BBB accredited company. The company has negative customer reviews and ratings. Omni Ellis does not have Yelp or Trustpilot reviews.
Our Team at MyTER always recommends working with a company that has a strong positive presence in the timeshare exit industry. After carefully reviewing Omni Ellis, our team has decided to assess the company with a 1.0/5.0 MyTER Rating. The past reviews on Omni Ellis stood out to our team. There are also a few negative reviews. Reach out to our team to see if Omni Ellis is a good fit for you. 
We would have liked it if the company had a Yelp or Trustpilot presence. We do not want you to run the risk of losing out thousands of dollars, we recommend you reach out to our team or research the company in detail before signing a contract.
Due to the recent complaints towards Omni Ellis, we do not recommend owners to work with Omni Ellis until they have helped their owners. Many owners are claiming they are not answering calls and their timeshare cancellation is not resolved after paying thousands up-front.
Who Own's Omni Ellis?
The California Secretary of State file doesn't title an owner for Omni Ellis. The Agent for Legal Process is listed as LegalZoom.com Inc.
The Company's Articles of Organization

and additional archives are signed through Cheyenne Mosely, an Assistant Secretary at LegalZoom.com, but no one else is mentioned.
Where is Omni Ellis Located?
The original address for Omni Ellis is 100 Pine Street, San Francisco, CA.
The Nevada Secretary of State lists an address for Omni Ellis at 1810 E Sahara Ave, STE 214, Las Vegas, NV 89104.
The Better Business Bureau (BBB) states that letter sent to this address was returned but no new address has been verified.
What is the Contact Information for Omni Ellis?
(888)-564-0258 was the phone number last displayed on their website.
The Omni Ellis Facebook page also provides a link with a Google Docs contact form.
After carefully assessing Omni Ellis, our team has concluded the company currently is not helping its clients. We edify companies that prioritize timeshare owners who are paying thousands of dollars to get out, and Omni Ellis is currently not doing that. Unfortunately, this industry is riddled with scams. There are quite a few timeshare exit companies you will not hear from for months unless you call them.
Contact our team so we can help you find and determine if a timeshare exit company is legitimate. We recommend working with timeshare exit companies that offer escrow, so you pay no up-front fees. Know your legal right so you can exit your timeshare contract legally. Read over our website and fill out the form on the right or contact us through Live Chat for a free informational consultation.
Free Informational Consultation
By providing my contact information and clicking 'submit', I am giving MyTimeshareExitReviews.com and its partners permission to contact me about this and other future offers using the information provided. This may also include calls and text messages to my wireless telephone numbers. I also consent to use of emails and the use of an automated dialing device and pre-recorded messages. I understand that my permission described overrides my listing on any state or federal 'Do Not Call' list and any prior listing on the 'Do Not Call' lists of our partners. I acknowledge that this consent may only be revoked by email notification to info@mytimeshareexitreviews.com.
FREE Timeshare Exit Guide
Timeshare Laws Regarding Cancellation
Free Timeshare Exit Cost Assessment