Timeshare Answers is a timeshare cancellation and resale company based out of Orlando, FL. Established in 2009, the company has been in business for over 12 years under several domain names.
Also known as Integrity Marketing Solutions LLC, the company does demonstrate a positive reputation with its customers. However, due to some recent complaints, some things did stand out about the company.
If you're looking for a fair and honest review of Timeshare Answers, you've come to the right place. Our team has written a detailed review of the company, filled with many pros and cons. Our goal is to give our readers better insight into how Timeshare Answers and other timeshare exit companies work. And there are a couple of things we believe every timeshare owner should know. To learn more, initiate a Live Chat, or fill out our free consultation form on the right. We'll help you select the best option ideal for your timeshare situation.
Timeshare Answers Reviews
In general, Timeshare Answers Reviews are relatively positive and mentioned on two platforms. But as our team dug deeper into our review, we discovered some shocking information about the company.
We first started with analyzing the Timeshare Answer's website. As of October 2021, the company's active website is currently under the domain name "timesharecancelservices.com."  The site itself is very moderate and professional. Therefore, it was straightforward for our team to find the services that they offer timeshare owners. This is why our team found its first red flag so quickly.
Timeshare Answers offers 4 primary services: timeshare cancellation, mortgage cancellation, money recovery, and credit protection. They do offer a money-back guarantee, but they never mention escrow. A money-back guarantee still means upfront fees, and we never recommend paying anyone upfront. Paying upfront in full has led to many timeshare scams. And the last thing our team wants to see is for you to get scammed out of your hard-earned money. To learn more about timeshare scams, click here,
As we scrolled down, we read a very bold statement from the company:
"$15,000,000 in Cash Refunds For Our Clients. Get Your Money Refunded. Call Now!"
 We first want to point out that it is extremely difficult to refund a timeshare owner's money. And if your timeshare was paid in full years ago, this only complicates the matter. Therefore our team found another red flag with the company. On the Timeshare Answers 'About Us' page, they state
 "Our sole mission was to help timeshare owners take a stand against huge corporations that sold them timeshare contracts under duress, misrepresentation, and deceptive sales tactics…. It does not matter where you purchased or how long ago you bought your timeshare."
 This is a wonderful mission statement for any exit company to have. But it sounds too good to be true. There are no links sourced to back up these claims.
Not every timeshare exit company is qualified to take on every case and be successful with the cancellation. This is why we always recommend seeking a free consultation with an exit company. It is crucial a company first determines if they are qualified to take on your case before any exit fees are discussed. Remember, anyone can claim they cancel your timeshare without any knowledge of your current situation.
We do admire that Timeshare Answers has a contracts release page. Here they took the liberty to upload copies of legal documents with several popular timeshare resort developers. Our only concern is that none of these agreements demonstrate a response from the other party. Many lines are left blank. No signatures are present. This does make you question the credibility and the success of these documents.
The Timeshare Answers testimonials page does display a couple of video testimonials from past customers. We do appreciate the video content because it eliminates any skepticism that could occur from written reviews.  In addition, this strengthens the authenticity of the company's success. Another positive feature the company website displays are their "timeshare cost calculator." Many timeshare owners admit they do not fully understand how much their timeshare costs. This calculator is a great free tool to get a good idea of where you stand and how all your fees add up. We admire that the company demonstrates effort here in providing exceptional customer service.
On the last page, we came across the Timeshare Answer's 'FAQ page. Here the company provides many great answers to some of the most common questions in the industry. Any company willing to educate its viewers is a positive sign. But unfortunately, we still cannot recommend them.
We only recommend companies with no upfront fees and offer an escrow payment option that way, you stay protected. Why we prefer escrow is because it holds the exit company accountable to fulfill its services. In addition, it eliminates all upfront fees paid directly to the exit company. To learn more about escrow, click here.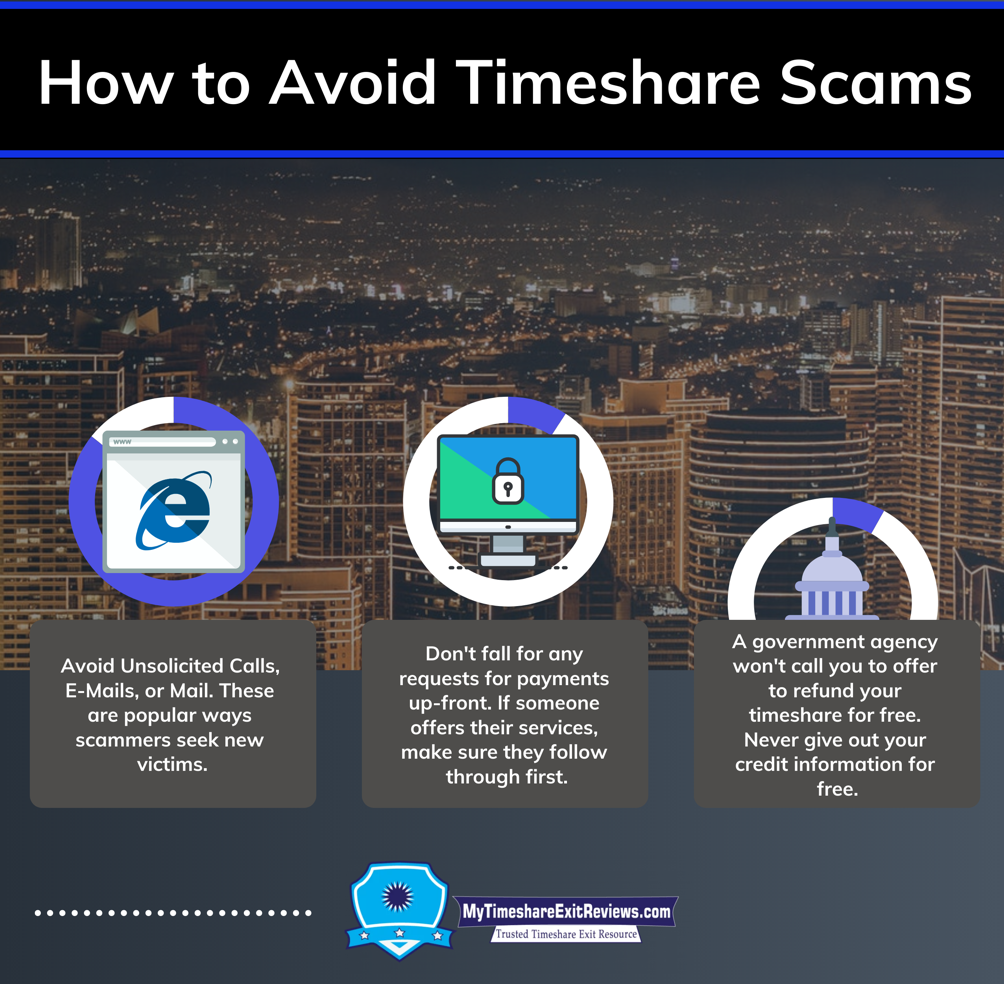 Similar to most timeshare exit companies, Timeshare Answers does not mention their costs online. And after reading many online reviews, we were unsuccessful with our search.
It wasn't until we came across complaints from past Timeshare Answers customers where we struck our luck. Two recent complaints mention a fee of $2895 and $4000. These are standard prices for the cancellation industry, nothing out of the ordinary here. A typical range we have seen can run $3000-$6000 depending on the complexity of your agreement. Below are two recent complaints on the Integrity Marketing Solutions BBB page.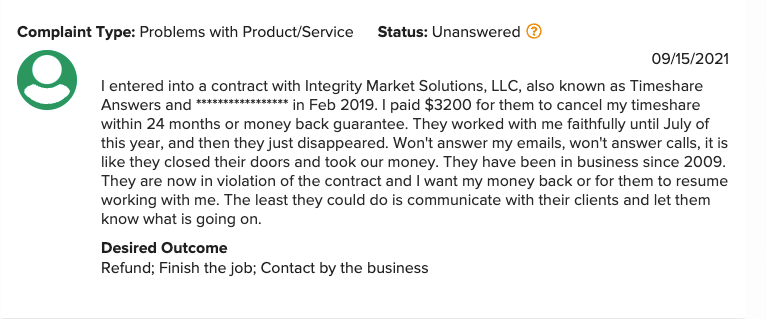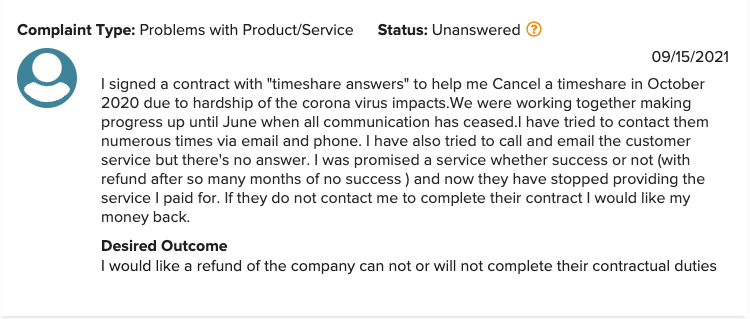 Timeshare Answers Ratings
Update October 2022: Integrity Marketing Solutions is listed as the owner of Timeshare Answers on the Better Business Bureau. The Integrity Marketing BBB page has an "F" rating, and they have been in business for 12 years. They are no longer an accredited business with the Better Business Bureau due to a recent pattern of complaints. In addition, they do not offer an escrow payment option. We believe clients should be protected through the whole cancellation process. We've seen a few companies go "bankrupt" after collecting money up-front from many timeshare owners.
The last thing that our company wants to see is you losing your own hard-earned money. So if you are skeptical and unsure if this company is a good option for you, you may want to look for a timeshare exit company that offers an escrow payment option. That way, you stay protected against a timeshare exit scam. To see the list of companies that we have reviewed, click here.
MyTimeshareExitReviews.com makes it our priority to provide you with the most updated and detailed information about timeshare exit companies. Our team has assessed a 3.5/5.0 MyTER Rating for Timeshare Answers. This rating was based on having a 100% Money Back Guarantee, and positive reviews on the Better Business Bureau under Integrity Marketing Solutions, LLC.
Overall, our team at MyTER always recommends working with a company that has a strong positive online presence. After carefully reviewing Timeshare Answers, our team has decided that we cannot change our recommendation. We do not believe you should have to pay anyone up-front. Unfortunately, this has led to countless timeshare exit scams. A reputable exit company should always put its customers first. And at the moment Timeshare Answers has many unanswered complaints.
Their process does seem familiar in comparison to multiple exit companies. Still, our team always recommends working with companies that offer an escrow payment option, so you are always protected. If you are not sure if a timeshare exit company is right for you, initiate a Live Chat, or fill the form on the right side of the page. We can help you find the right timeshare exit company ideal for your situation at no cost. If you would like to take your timeshare education further, click here to download our premium timeshare exit guide! We've listed tons of exit strategies as well as common scams so you can stay protected.
Free Informational Consultation
By providing my contact information and clicking 'submit', I am giving MyTimeshareExitReviews.com and its partners permission to contact me about this and other future offers using the information provided. This may also include calls and text messages to my wireless telephone numbers. I also consent to use of emails and the use of an automated dialing device and pre-recorded messages. I understand that my permission described overrides my listing on any state or federal 'Do Not Call' list and any prior listing on the 'Do Not Call' lists of our partners. I acknowledge that this consent may only be revoked by email notification to info@www.mytimeshareexitreviews.com.
FREE Timeshare Exit Guide
Timeshare Laws Regarding Cancellation
Free Timeshare Exit Cost Assessment