Titan Exit Group is a timeshare exit company based in Costa Mesa, California. First established in 2019, the company claims to have the solution to your timeshare troubles.
Question is, are they right? It's tough to say about a company whose only been in the industry for 2 years now. While they appear to be certifiable with these robust guarantees, do they really hold up to their own end of the bargain? Continue reading to find out!
Now you mustn't confuse them with Aaronson Law Firm El Paso, TX. This is the law group run by Mr. Austin N. Aaronson, Esq. in Longwood, Florida. 
We know they're a relatively new timeshare exit company that was first opened in 2019. Titan Exit Group's office is located in Costa Mesa, CA.
Titan Exit Group's website describes the company as "corporation", and registration papers identify Mrs. Cimar Scaff as the CEO and Mr. Bruce Rose as Supervisor of the company. Although, there's not much information about either of these people's qualifications.
Titan has a 3-pronged approach to timeshare exiting
Investigate: You'll be assigned a representative who will be your point of contact on your case.
Advocate: Once an agreement on an exit strategy has been made, they'll begin work and keep you updated during the process. Our concern is Titan doesn't explain what kind of work they'll be doing, so be sure you fully understand precisely what they'll be doing day-to-day and ask for proof.
Resolve: When that glorious day comes that you are finally out of your timeshare contract, Titan Exit Group states they'll "give" you a letter from the developer that frees you from any further liabilities.
We find this phrasing somewhat risky. It's great of them to provide you with a duplicate of the developer's letter, however we recommend you circle back to your developer to verify this yourself. Call them and request that they send you a letter of cancellation also. There might be exit companies out there that have faked leave letters for owners just run off with all their money.
Online reviews are a great way to learn about how a company works! You should always proceed them with caution. Titan Exit Group has very few reviews, however.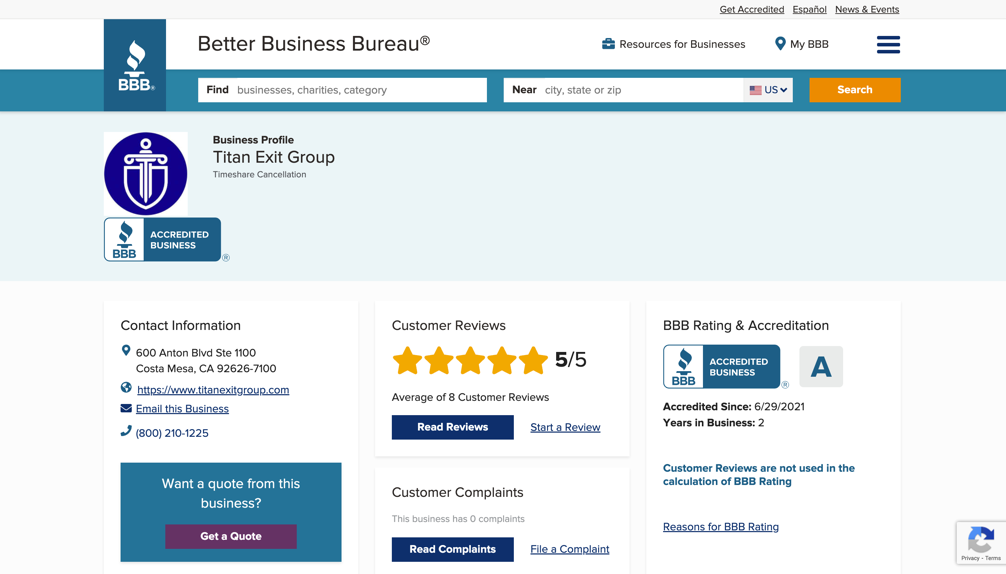 On their Better Business Bureau profile, they do have an "A"-rating from the BBB as well as an accreditation. In addition the Titan Exit Group Facebook page has twenty-eight 5-star reviews. And on Google they have a 4.9/5-star rating out of 15 customer reviews.
This is a good start, but the company is lacking in online reviews. They try to make up for it with some of the reviews on the Titan Exit Group website. But any timeshare exit company can post up testimonials on their own site and guarantee they are genuine.
While we don't think this prompts them being a scam, we always do alert likely clients to be vigilant when they choose to contact companies like this. With the absence of data about who possesses the organization and who runs it, you don't have any idea who will be picking up the telephone when you reach them.
You won't realize what you're getting into, and you could wind up losing cash or setting yourself in a muddled situation. If there is no exploration to be done, it is ideal to tread carefully until you can assemble any additional information.
Our team's first impression of the site is disappointing. It has a similar structure of the typical second-rate timeshare exit company with the basic stock photos and couple of generic testimonials to support their claim.
The underlying assertion is somewhat tacky. Random fonts make up the homepage, along with out-of-place italicized words and textboxes. A company's social presence and image is huge in establishing trust in the timeshare industry. This all just screams amateur, and their years in business doesn't help their case.
While we regularly wouldn't be finicky about the textual style, this isn't something that we'd recommend to others as a site that offers lawful assistance.
Moving on, the company does make guarantees that they deal with everything legitimately, morally, and until the end of the process. But as we like to say, "actions speak louder than words!"  
To get to their contact page you need to click on a little tab that says, 'how would I get out', or you can click the 'get started button' below. Either way this doesn't make it very straightforward for the timeshare owner to contact them.
They additionally guarantee they were referenced on Fox News, Fox Business, and CNN, however we aren't given anything conclusive about how they were referenced or why. Their point of arrival has a video included to give more data about why you would get in touch with them and assuming you're worn out on your townhouse you ought to snag them.
The 'About Us' page is a little segment committed to what they do and how they get it done, yet it is for the most part cushion and doesn't give a lot to truly depict their business interaction.
Assuming you're wanting to get more familiar with Titan Exit Group in their 'About Us' page, you won't find anything supportive. Indeed, even on their Better Business Bureau page, you'll just track down their contact data and there's tiny to back up their qualifications. We don't ordinarily suggest timeshare exit companies that don't have a lot of data about their certifications on their site or their BBB profile.
They guarantee to explore your case, advocate for the dropping of your agreement, and afterward they settle the issue for you. Assuming that you are searching for additional data, they show a couple of their websites on the presentation page to give you a sneak look at their 'Blog' page.
In the event that you truly do choose to explore over to their 'how would I get out' page, you will not receive much in return either. They just note why somebody would get a timeshare and why you should dispose of it. They portray timeshares as cash pits that have no resale worth and that it tends to be extraordinarily overpowering to cancel one of them. They guarantee that they are the most obvious opportunity to get you free from your timeshare contract without any issues.
In general, the actual site is disappointing and we could do without how little data they give. A large portion of the data accessible is filler text and doesn't make them look entirely solid. We could credit this to an absence of involvement, yet and still, at the end of the day it seems like the actual site is on the more fragile finish of the timeshare exit companies we ordinarily review.
There are no mentions of any Titan Exit Group cost online. With just a free consultation available and no data about their services or expenses, this doesn't sound like the most trustworthy group.
They likewise offer no escrow payment option which is something we will quite often suggest. Escrow protects you from a potential exit scam. We prefer this option because it holds the exit company accountable to complete the services they promised to do.
This is a significant component that can cause likely clients to feel more in good hands with the organization before they hire them. It might hurt the business to have their data completely upfront, yet it can likewise hold them back from getting expected clients as the vast majority would rather not go aimlessly into a discussion. To learn more about why escrow is important, click here.
Titan Exit Group can only exit your timeshare through the developer if your purchase was based on fraudulent misrepresentations during the presentation.
As a general rule, according to Titan Exit Group, they'll require between 6 and 12 months to free you from your timeshare burden.
They mention their A+ rating with the Better Business Bureau. And why wouldn't they? However, seven reviews do not an experienced and revered company make. We don't suggest using exit companies that have been around less than five years. Fly-by-night exit companies pop up and disappear every day.
They state they will not pressure you into using their services.
The cost to use Titan Exit Group is not disclosed, which is typical. Since every timeshare contract and situation differs, they won't quote you a price until your initial free consultation.
Titan Exit Group is not a law firm, nor do they have attorneys available to you. Cancel Timeshare Reviews suggest you either hire a lawyer to look over your contract before signing or ask if they will provide one to do so.
Instead of offering a money-back guarantee, Titan Exit Group offers an escrow option; It's the industry's only true guarantee that completely protects you, the consumer. Extra points for this important service. However, this sentence; "To put your mind at ease, we offer fee escrow services." This either means they charge a fee to use their escrow services, or they've misspelled the word, free. We're not entirely sure.
The website overall is a bit tacky but does contain some good information. The fact that Titan Exit Group does not offer an escrow payment option is a concern for our team.
Titan's social sites are not up-to-date, which is disappointing, especially for a newer company. Titan's Facebook page has twenty-eight 5-star reviews, and its BBB page has eight 5-star reviews. That's not enough to know if Titan Exit Group is an ethical company, but it's a good start.
The secrecy behind the owner or team seems a bit off, and we don't like that. Transparency in business is imperative in this day and age. What are they hiding? Only time will tell. The company is too new to fully understand the scope of their impact in the timeshare exit industry. We will be watching this company in the coming years to see how they fare. Please check back for updates from MyTimeshareExitReviews.com
There are no reviews yet. Be the first one to write one.
Free Informational Consultation
By providing my contact information and clicking 'submit', I am giving MyTimeshareExitReviews.com and its partners permission to contact me about this and other future offers using the information provided. This may also include calls and text messages to my wireless telephone numbers. I also consent to use of emails and the use of an automated dialing device and pre-recorded messages. I understand that my permission described overrides my listing on any state or federal 'Do Not Call' list and any prior listing on the 'Do Not Call' lists of our partners. I acknowledge that this consent may only be revoked by email notification to info@mytimeshareexitreviews.com.
FREE Timeshare Exit Guide
Timeshare Laws Regarding Cancellation
Free Timeshare Exit Cost Assessment