How To Get Rid Of A Timeshare Inherited From Parents?
Whenever people hear the word 'timeshare', they run away. This is because the timeshare sector has been quite discredited over time,  due to several factors that are not favourable to customers.
But before starting this article on how to cancel a timeshare it would be good to explain what a timeshare consists of, which is:
A timeshare, consists of the use and enjoyment of a person or group of people, of a place, for different periods of time, usually weeks, but having the peculiarity, especially in the case of real estate, that place will never belong to them, they will only be able to enjoy it, but without having the property of it.
In general, timeshare properties are within the hotel facilities, and people who buy those packages when contracting the service pay an initial fee and monthly and annual fees.
In general, a timeshare contract is written in a similar way to other types of real estate contracts for the partial authorization of a tenant's property. Unlike a lease, which can be terminated when the tenant dies.
In the case of a timeshare, family members can inherit it. Many people contact us and ask how to get rid of their parents' timeshare and the most common question  asked is: "Am I responsible for the time-sharing rates of my deceased parents?"
Sometimes, a timeshare contract may have clauses that declare that the timeshare will be returned to the resort where it was purchased when the owner dies. Although it doesn't always end like this. These cases are really rare.
Some timeshare contracts specify a joint property in the clauses. This means that more than one person owns the timeshare. 
For example, if you are the owner, this means that you and your wife, or you and your child will be the two legal owners of the timeshare. In this case, what happens with your timeshare when you die is that the other person indicated in the contract as the owner obtains the total ownership of the timeshare.
In such a case, the timeshare will not be legalised along with the rest of the deceased's properties.
What Happens To Your Timeshare When You Die?
What happens to a timeshare when the owner passes away? Many believe that the contract is canceled, but that is not always the case.
We have learned that timeshares are not a purchase that anyone can handle. Many defrauded timeshare owners try to get rid of their properties by listing them on various websites for one dollar, without success. However, what happens to your timeshare when you die? Does ownership transfer to your family? Find the answer to this question in this article.
Timeshare Contract – The key to knowing what happens to your timeshare when you die
Because your timeshare agreement will undoubtedly state in one of its clauses what happens to it when you die, we recommend that you read the agreement carefully. Some timeshares can be inherited, while others can be owned by more than one person, however, no matter what the contract says, the truth is that all clauses will always benefit the resort. Also, ask as many questions as possible during the presentation if you are seriously considering purchasing a timeshare.
What happens to your timeshare when you die? This will depend on several factors:
Co-ownership: This is when more than one person owns the timeshare. In this case, if one dies, the other person gets the full membership.
Inheritance: Some timeshares can be inherited. In this case, when the owner dies, the successors of the timeshare owner will have to take care of future payments.
Probate: When the timeshare contract is in the name of a single person, the property will go into probate when that person dies. This means that the timeshare is passed to another person, according to the will of the deceased person.
Returned to Resort: Some resorts take ownership back once the owner dies, however, this is not a common scenario.
Is There A Way To Get Rid Of A Timeshare?
There are alot of ways to exit a timeshare, but the best is to cancel it.
 If you have already purchased a timeshare that was sold under fraudulent promises, and have not been able to contact anyone at the timeshare resort, contact us today At MyTimeshareExitReviews, we recommend only the companies that will be happy to work on your behalf to ensure that the negotiation is fast and successful.
How to Legally Decline a Timeshare Inheritance?
Did you inherit your parents' timeshare or did someone in your relatives recently left you with theirs? Unless that timeshare has tremendous sentimental value or you know you would use it regularly and long-term, it would be wise to turn it down. That's because timeshare comes with high and mandatory annual maintenance fees. Even a "free" timeshare will cost a lot more than you think in the long run.
If you are passed a timeshare you don't want or can't use, here's how to legally refuse:
Submit a "Waiver of Interest", this is a written refusal to accept the timeshare. A qualified company or professional can help you with the paperwork.
Submit your resignation on time. Laws vary, but typically you will have about nine months from the date of death…unless you are a minor, then the clock starts when you turn 21.
Ask the executor of the estate to send a copy of the death certificate to the property management company to avoid being charged maintenance fees.
Also, if the unit has a mortgage, have the executor send the resort or bank a copy of the death certificate to prevent them from putting the property in foreclosure.
Make sure of your decision. Once you file a waiver of interest, your decision is permanent. In other words, you will have given up your interest and cannot give the property to charity or your best friend.
Inform your family and friends. In general, if you decline a timeshare, it will pass to the next person in line. If that person doesn't want it, they must also file their own waiver of interest.
You cannot legally give up a timeshare that you have used to profit after an inheritance. You can't even go on vacation there "just to check it out." Otherwise, you could be paying those maintenance fees until you take over the property yourself.
These are only general guidelines. You will need to consult a professional timeshare cancellation company to help you with this process, as it will vary from state to state.
Succession process:
If a timeshare does not specify a joint property with another person in the contract, after the death of the owner, the timeshare will enter a succession process. 
This means that the unit will be passed on to another person in agreement with the terms, or what he or she has declared in a legal document that specifies that he will inherit his or her property to someone.
Then, a judge in the probate court will specify who is the total owner of the timeshare. 
A large number of different state laws related to inheritance, real estate, and, more specifically, related to timeshares, also influence a judge's decision on who is the owner of a timeshare when the original owner dies.
As a result, a person who wants to be sure of what will happen with their timeshare when they die should consult with a lawyer or a professional in planning and forming a contract.
A common question that the children of deceased timeshare owners also ask is: How can they get rid of their parents' timeshare?
Can Timeshares Be Passed Down?
When a loved one passes away, their assets are usually distributed to the next-of-kin or beneficiaries as per their will. 
But if they own the timeshare, it will be passed down to their kids like any other property. However, if the timeshare contract has a perpetuity clause, it can make it difficult for heirs to eliminate the timeshare.
This is because the timeshare title is owned forever and is included in the original owner's estate. 
It's important for timeshare owners to make sure that their beneficiaries know the terms and costs associated with the timeshare. If you inherit a timeshare, reviewing the contract and understanding its terms and conditions is essential.
If this is close to something you are facing, please reach out to us through LiveChat or give us a call at (833) 931-6555.
Alternatively, you can contact the timeshare resort developer or speak to an expert, such as an estate planning attorney or real estate attorney. 
They can guide you through the process and help you make an informed decision. 
In summary, inheriting a timeshare is possible, but it's essential to be aware of the obligations and costs associated with it to make a well-informed decision.
A timeshare inheritance can be either a blessing or a curse. While taking a trip to a fancy resort can be a wonderful opportunity, it can also bring with it unforeseen costs and duties.
Reviewing the contract and comprehending its terms and circumstances is the first step in dealing with an inherited timeshare.
If the timeshare has a perpetuity provision, which might make it difficult for heirs to get rid of it, this is especially crucial.
You are liable for all associated costs when you inherit a timeshare, including maintenance fees, property taxes, and other outlays. The benefits of owning a timeshare should be weighed against the costs because they can quickly accumulate. Budget for these costs if you opt to keep the timeshare and make plans appropriately.
You have a few options if you don't want to keep the timeshare;
 Selling the timeshare on the secondary market is one choice.
However, it's crucial to be aware that selling a timeshare can be challenging, and you could not get the entire worth of the property.
Another choice is to give the timeshare to a good cause, however not everyone will be able to do this. 
Reach out to us to find out about solutions you may have to exit your timeshare.
Can Timeshare Estates Be Passed Down To Heirs?
What happens to a timeshare when its owner passes away? The answer is simple:
 The timeshare becomes part of the deceased's estate, and the benefits, obligations, and investment attached to it are passed on to the next-of-kin or beneficiary.
The inheritance of a timeshare can be a bit complicated, especially if the timeshare contract has a perpetuity clause, meaning the timeshare title is owned forever.
This clause can make it difficult for heirs to get rid of the timeshare, as they may not be willing or able to pay the maintenance fees or other obligations attached to it.
If you plan to leave a timeshare as part of your estate, it's essential to ensure that your beneficiaries know the obligations and costs associated with it. 
Ask yourself, are you going to pass a burden to your kids?
Timeshare inheritance is a complicated issue that requires careful consideration.
 Understanding the obligations, benefits, and costs associated with the timeshare can help the owner and the beneficiary make informed decisions.
How To Get Rid Of Your Parents' Timeshare?
We know that having a timeshare can be an undesirable inheritance. Some resorts, especially, make this a headache and more because of the monthly fees in the contract, they do not stipulate that such payments will increase and will add some other fees. This is a fraudulent tactic of sellers to cover the reality of what it means to be a timeshare owner.
Often, people complain about timeshare rates and when a parent leaves a property to a family member, the son/daughter who inherited the property asks: Am I responsible for the timeshare maintenance fees of my deceased father? and the answer is yes.
In the same way that your parents used to cover your monthly timeshare payments, when you inherit it, you have the same responsibilities as an owner.
It is suggested to cancel since it is a legal way to terminate the contract.
The best option is to cancel the timeshare contract. 
It is the fastest and least risky way to fall into scams. We do not suggest that you try it in the resale market, since it is known that this is as fraudulent as timeshare rentals.
Are you looking for help on how to get rid of your parents' timeshare? Do you need to cancel a timeshare contract? Contact us and get a free consultation. No fees in advance. We assure you that we can help you find a reliable company to cancel your timeshare legally.
For more information on how to get rid of your parents' timeshare, fill out the form in the contact section or call us at 833-931-6555.
How Do You Renounce An Inherited Property Shared With Siblings?
What Procedures Must Be Done And What Would It Cost You?
To answer your question, we assume that you have already inherited ownership of said property, that is, you have already accepted the corresponding inheritance. Giving up the home, as well as any other activity that modifies the property, in this case, co-ownership, requires to be formalized by public deed before a notary, which entails a series of costs. In addition to the costs set by each notary, in order to resign, a series of non-economic requirements must be met.
Regarding the procedures that must be carried out:
a) Based on the agreement of all, what you must do is go to a notary who must document the modifications in the deed, indicate the points of agreement between the parties and act as a witness of the operation.
b) To make the deed public, it will be necessary to register it in the Registry, paying the corresponding registration fee.
c) Finally, any change that has to do with modifying the deeds of the house as a consequence of a new distribution of property or ownership will implicitly imply the need to pay taxes; Specifically, due to the modifications in the deeds and the new distribution, they will have to pay the inheritance and donation tax (which in some communities is minimal) and the tax on documented legal acts. A different situation would be if you have not yet accepted the inheritance, and can still renounce it without the percentage of ownership of the property becoming part of your heritage at any time.
How To Exit A Timeshare?
In this article, we want to show you the real options you have to cancel a timeshare. We also answer the questions about how to cancel this charge or make a disengagement of maintenance fees.
Who Wants To Get Rid Of Their Timeshare?
Customers who no longer use the multi-ownership weeks and want to stop paying the fees, just want to disassociate themselves from it. The whole process can be burdensome and consists of a lot of paperwork, and it can be overwhelming to handle everything on your own. Fortunately, there are multiple timeshare canceling companies that can help you out. But be extra careful to not be scammed since many of these companies are unreliable. Sign up with us and get access to all the data we have organized on these companies. We will help you find the most suitable and authentic timeshare canceling company for you. After a timeshare contract, there are several reasons for a person to cancel it, for example, the person realizes that:
Most of the verbal promises made by the sellers are not written in the contract.
They cannot pay the monthly and annual shared time fees.
It is possible to travel at a cheaper price on your own, than by using a timeshare.
Possibly they felt that they were pressured to buy a timeshare, by the sellers.
They were possibly told that timeshare would be a good investment, but after all, it doesn't turn out to be such a thing.
Cancel Timeshare and Recover Money
To recover the amounts paid in the purchase of a week of a timeshare, two approaches must be made:
Raise a  contract nullity complain
Cancel the loan from the purchase of the week.
In these cases, the amounts paid are recovered as long as it meets the nullity requirements according to the Supreme Court ruling.
Canceling a timeshare can be very difficult since usually the contracts that are signed are quite difficult to cancel without penalty and long administrative processes.
These basic factors must be taken into account before canceling a timeshare: the date of purchase, the cancellation period, the amount paid, and the hotel where the purchase is made.
The cancellation date is of vital importance because, in that termination period, it can be canceled without any penalty.
When the cancellation period has expired, it is much more difficult to cancel a timeshare contract, but it is not impossible.
It usually requires a long period of time, many negotiations with the hotel, and above all a lot of patience, which is why some people prefer to continue with the contract since it is very difficult to get this on their own.
A few months after buying a timeshare, you will probably start receiving a large amount of documentation from the resort detailing everything. Taking a look at the paperwork, you may have noticed some things that didn't look good. Perhaps the price of the mortgage was higher than mentioned, or the sales representative lied to you about the annual fees. If this sounds familiar to you, then you are not alone.
Are you worried about the obstacle of canceling a timeshare in a foreign country? Rest assured that we are here to help you. There are a couple of options you have if you are learning how to get out of a timeshare.
If you are the type of person who likes to read a contract immediately after your purchase, you may be lucky.
The termination period in your contract is another way to give you a few days to see that what you bought is beneficial for your situation. On average, timeshare companies usually have a rescission period of 3 to 10 days. But on rare occasions, it can last up to a month. If you are in your termination period, we suggest that you act immediately.
First, we suggest that you contact the resort and tell them that you want to leave immediately and that you are under your termination period. Then we suggest that you send all the required documents the next day. Your timeshare dealer will want a signed document indicating that you want to terminate your contract. We recommend that you send the documents overnight to be safe. If the documents arrive days after your termination period, most timeshare companies will not accept your request to terminate the contract.
Do you have any idea what happens to your timeshare when you die? To learn more about timeshare issues, visit: www.mytimeshareexitreviews.com
We only recommend timeshare canceling companies that have precise, concise, and effective solutions for your problems. We suggest that you ensure at the time of initiating legal action against the fraudulent timeshare company you are already covered and protected. Your peace of mind is our priority, thus we only recommend companies that are authentic and actually DO SHOW UP! These companies work to cancel your timeshare without advance payments and have Highly Trained Professionals. They have solved hundreds of cases successfully. Sign up and save yourself from being scammed.
If you liked this article, help us share this information with more people to avoid having more victims of timeshare scams.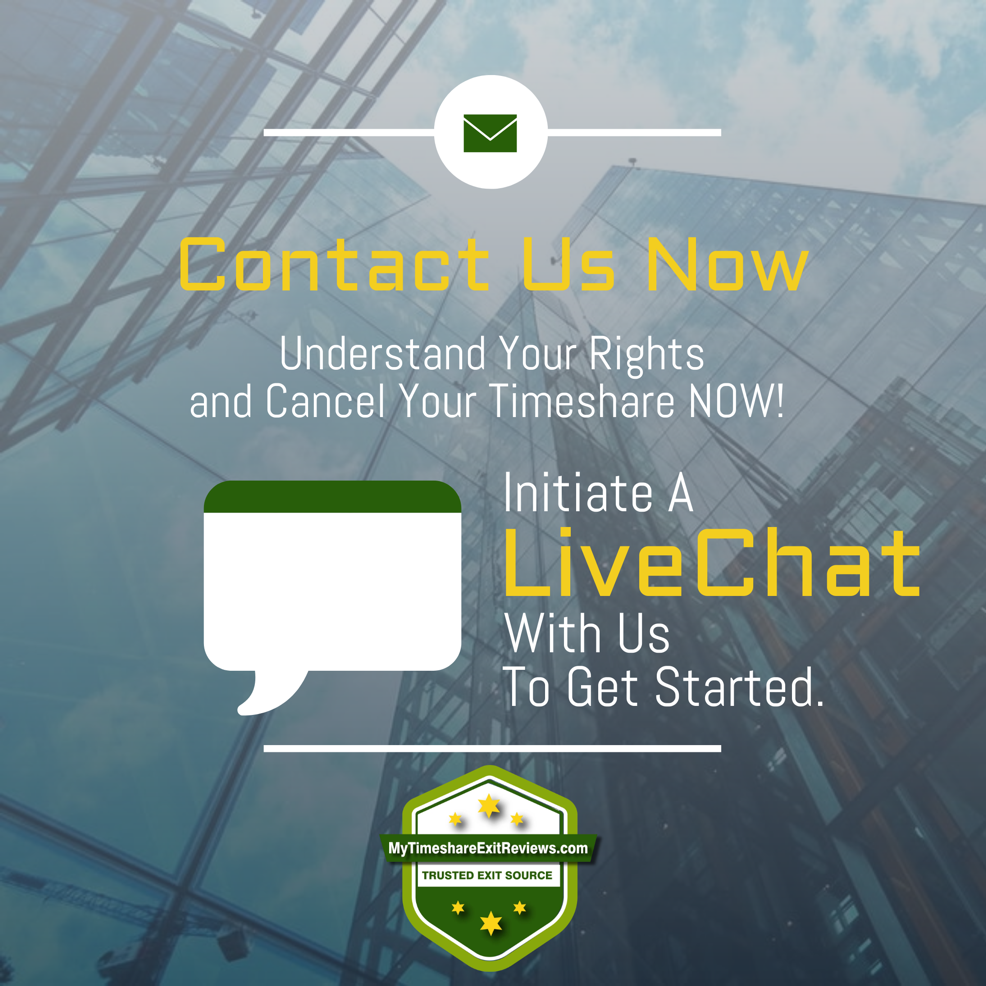 There are no reviews yet. Be the first one to write one.
Free Informational Consultation
By providing my contact information and clicking 'submit', I am giving MyTimeshareExitReviews.com and its partners permission to contact me about this and other future offers using the information provided. This may also include calls and text messages to my wireless telephone numbers. I also consent to use of emails and the use of an automated dialing device and pre-recorded messages. I understand that my permission described overrides my listing on any state or federal 'Do Not Call' list and any prior listing on the 'Do Not Call' lists of our partners. I acknowledge that this consent may only be revoked by email notification to info@www.mytimeshareexitreviews.com.
FREE Timeshare Exit Guide
Timeshare Laws Regarding Cancellation
Free Timeshare Exit Cost Assessment