It's possible you were told it's not a sale presentation," or "its 90 minutes or less." More than likely, it was a sales presentation. And few leave in 90 minutes or less without buying something within that time frame.
If this was you, chances are you want out. There are many companies you can choose from to help with this. But how can you tell who's legitimate? Or if the company will live up to its reputation? Who do you choose?
Resort Advisory Group just might be one of those options. A timeshare exit company located in Irvine, California, that claims to be a "leader in timeshare exit industry."  And with over 11 years of experience, that may very well be the case. But do they truly get results? Let's take a closer look.
Resort Advisory Group Reviews
Resort Advisory Group reviews are positive on various platforms. One thing that first stood out about RAG (Resort Advisory Group) is they have a very detailed "FAQ" page on their website. We always recommend timeshare exit companies provide a FAQ page for their customers. FAQ pages are beneficial to timeshare owners because most of us have several questions about timeshare exiting.
In addition to a unique yet professional website, we also found many customer testimonials, which is another +1 from our team. Typically, we would recommend voice-recorded customer testimonials, but the company has a well-established reputation on multiple platforms. 
Another unique aspect of the Resort Advisory Group is they offer a no up-front fee escrow option. If you are unfamiliar with escrow, we recommend you read more about why escrow is essential in the timeshare exit process in the link. Yes 100% Money-Guarantees are great, RAG offers one themselves. But not every company offers escrow. Since Resort Advisory Group offers an escrow payment option, they get another +1 from our team. 
In the exit process, Resort Advisory Group reviews also confirmed the company uses attorneys. From their "FAQ" page, we also determined the average time they take to cancel your timeshare contract is typically 6-12 months. The time frame is average compared to other timeshare exit companies. But using attorneys in the process is not very common believe it or not.
Yes, there are companies out there that try to get around the exit process without involving attorneys or lawyers. They'll ask for thousands up-front just to write fancy letters on "your behalf." Luckily, Resort Advisory Group doesn't do that! They'll make sure to do things right the first time.
Our team hasn't seen these letters carry a high success rate. Versus attorneys, they use fraudulent misrepresentations to cancel your contract. If your attorney looks for misrepresentations in your contract, now you can build yourself a strong legal case. As we mentioned before, using attorneys is the safest and most legitimate way to get out of a timeshare contract. 
Resort Advisory Group also offers credit protection services for its customers. After speaking to the timeshare specialist, our team was told that Resort Advisory Group would protect your credit during the timeshare exit process. Credit protection is uncommon for most timeshare exit companies, but it's another +1 for Resort Advisory Group.
Protecting your credit from derogatory marks is crucial because exiting your timeshare contract can take about 3-18 months. During that time frame, you may stop making payments towards your timeshare. The result of not making payments usually puts your credit in jeopardy, but RAG will help prevent that from happening.
Resort Advisory Group states that it will help eliminate all liability from your timeshare contract, including assessment fees and debts. Read the full statement below:
"Our team at Resort Advisory Group has a proven track record of persuading developers to exit timeshare contracts. We will remove all liability from your timeshare contract. You will no longer be responsible for maintenance fees, assessment fees, or payments on debts. Your heirs will no longer be responsible for any liability. You will no longer have any liability for your timeshare contract".
The company advertises on TV, radio, and all over the web. Our team likes to see a timeshare exit company invest in their company image. This typically portrays they have a strong marketing budget, and they are not another built overnight company. In other words, they will not scam you. Resort Advisory Group does offer a free consultation for their clients if you're still hesitant.
After speaking to a "consumer advocate" at Resort Advisory Group, we were put to ease because our questions were answered with ease. The company was not pushy to sign us up for their services. As we mentioned before, a company with good ethics should always put its customers first. There are no Resort Advisory Group complaints that our team came across. Below is the 7-Step Process Resort Advisory Group uses to help you cancel your timeshare contract:
Resort Advisory Group Fees & Cost
Resort Advisory Group fees are assessed after they evaluate your case. If a company was to give you a price without knowing anything about your situation or timeshare, that's a red flag. It's advised exit companies first assess your case before determining a fee.
From the information we collected, it's stated the cost for Resort Advisory Group fees ranges from $3,000-$6,000 dollars for a timeshare that is paid off, which is relatively common in the timeshare exit industry.
We advise you to try to haggle the price with any timeshare exit company because they will work with you and your situation. They want your business, so it never hurts to try.
Here is a statement directly from Resort Advisory Group discussing fees:
"Answering this question requires our team of specialists to gather more information about your specific case. We cannot answer that question without fully understanding the extent of misrepresentation and unethical sales practices you suffered. Once we conduct a free consultation and complete our due diligence on your case, we will be able to quote a reasonable fee that will result in saving you thousands of dollars. If we were to ask you how much it costs to build a house, you would not be able to answer that question without more information. Similarly, we cannot quote a fee because we do not know how many hours our specialists, analysts, and other professionals will need to devote to the case until we gather a full understanding of the misrepresentations you suffered. Further, we need to know more about the developer, whom we must persuade to exit your contract. To ease the burden, we offer escrow services—that way, Resort Advisory Group does not profit until you are legally and permanently out of your timeshare."
Lawsuits Against Resort Advisory Group
Our team believes it's important to update the public of any litigation an exit company may be involved in. Information like this can genuinely influence an owner's final decision on who they would like to hire.  
With that being said, we believe that you should be aware of a pending lawsuit involving Diamond Resorts and Resort Advisory Group alleging false advertising.
According to a recent news article posted on January 27, 2021, PR Newswire discusses a pending lawsuit involving Diamond Resorts and Resort Advisory Group. With all things considered, Diamond Resorts have been on a suing spree. Just in the past year, they've mentioned on their "News Releases" page they're going after Timeshare Exit Team, Pandora Marketing, Newton Group, Timeshare Freedom Group, Wesley Financial Group, and more!
In a recent episode of the Dave Ramsey Show on May 20, 2021, Dave mentions how Diamond Resorts is even going after the lawyers that defend the consumer against these corporate giants. He states these companies are trying to run the competition out of business. If you skip to 1:44:00 in the episode, Dave interviews an attorney who recently had to close down his firm because he, too, was being sued. During their conversation, he tells Dave how they've gone after him, and how at this point, they want to drain everyone with legal fees because they have the funds to do it. Dave chimes in here and says that Diamond, alongside their corporate buddies, has made a pact and put together a trust fund. Why, may you ask? He says to "run their competition out of business in court."
Although Dave Ramsey has made it very clear he hates timeshares, we did find truth in some of the things he mentioned on the air. Nevertheless, we will keep you informed and update the results of the pending cases here.
Resort Advisory Group Ratings
The Resort Advisory Group BBB profile has an A+ rating with a 4.48/5-star rating out of a 90-customer review average. The company has had 7 complaints in the last 3 years but has addressed all of them instantly. Our team found Resort Advisory Group's customer response time very impressive. Unfortunately, our team has seen numerous exit companies lack a sense of urgency when responding to customer complaints. But Resort Advisory Group does an excellent job by demonstrating how involved they are in customer complaint resolution.
Resort Advisory Group also has a 5-star rating on Yelp. They also have a 4.7/5-star rating on Trustpilot out of 45 reviews. And a 4.7/5-star rating on Google out of 98 reviews. As we mentioned before, we only recommend a timeshare exit company if they have reviews on various platforms. This demonstrates the company has a strong online presence and that they value its customers. 
After speaking to the "consumer advocate" from the company, our team assessed Resort Advisory Group a 4.8/5.0 MTER Rating. The company provides a no up-front fee escrow option, has a free consultation, and has positive reviews on multiple platforms. Resort Advisory Group puts its customers first, and its actions have shown it.
Overall Resort Advisory Group seems to be a legitimate timeshare exit company with a very good reputation. The company advertises on various platforms and demonstrates that it puts its clients first. Resort Advisory Group is a timeshare exit company that will help you eliminate all the timeshare fees and headaches you might have with your timeshare.
It's no question that the timeshare exit industry is saturated by scams, fraud, and liars. It's crucial you do your own due diligence when selecting a timeshare exit company. We hope the review on Resort Advisory Group provided you with a better understanding of what a reputable exit company should look like.
Contact our team so we can help you find and determine if a timeshare exit company is legitimate. We recommend working with timeshare exit companies that offer escrow, so you pay no up-front fees. Know your legal options so you can exit your timeshare contract legally. Read over our website, fill out the form on the right, or contact us through Live Chat for a free informational consultation.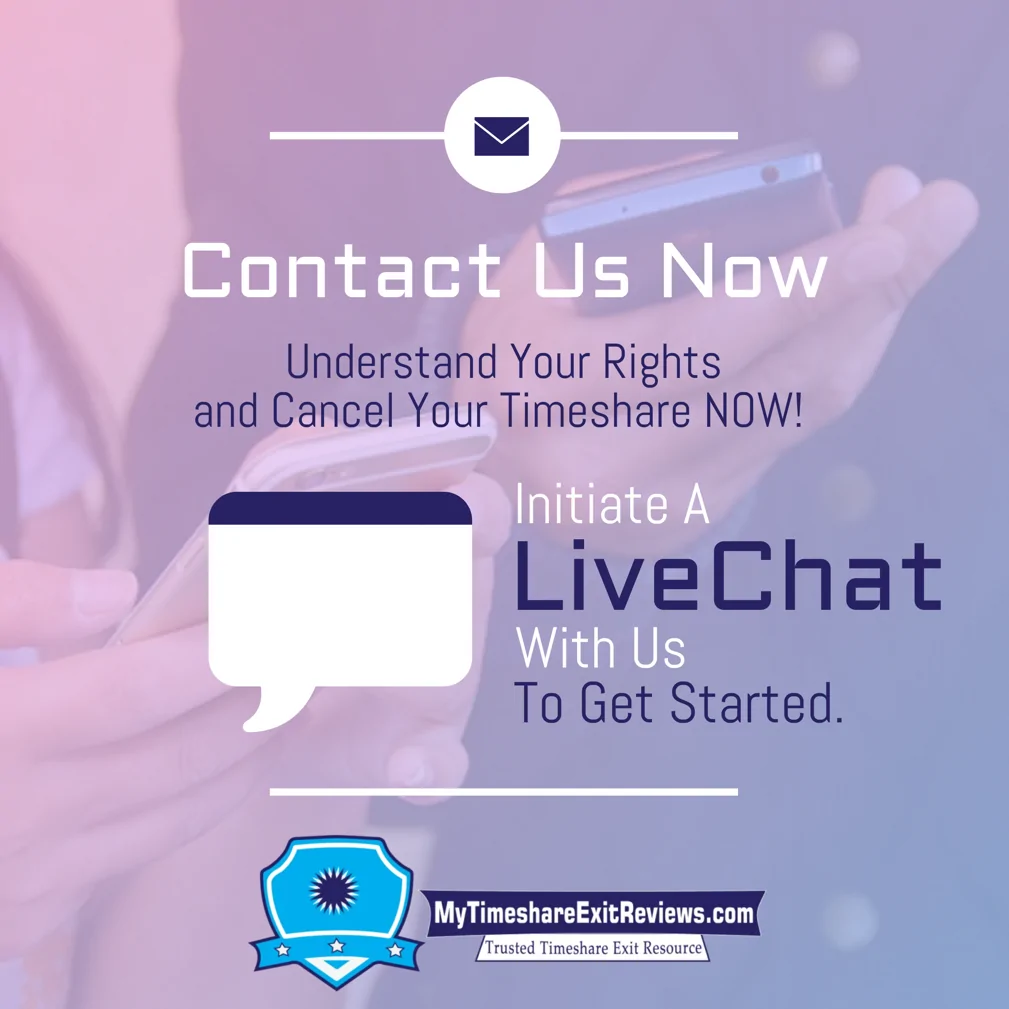 Free Informational Consultation
By providing my contact information and clicking 'submit', I am giving MyTimeshareExitReviews.com and its partners permission to contact me about this and other future offers using the information provided. This may also include calls and text messages to my wireless telephone numbers. I also consent to use of emails and the use of an automated dialing device and pre-recorded messages. I understand that my permission described overrides my listing on any state or federal 'Do Not Call' list and any prior listing on the 'Do Not Call' lists of our partners. I acknowledge that this consent may only be revoked by email notification to info@www.mytimeshareexitreviews.com.
FREE Timeshare Exit Guide
Timeshare Laws Regarding Cancellation
Free Timeshare Exit Cost Assessment