How To Cancel Vacation Village Timeshare
If you're searching for the secret on how to cancel Vacation Village Timeshare, you've come to the right place. We're about to reveal a couple of important tips you can use to get rid of a Vacation Village timeshare.
Of course, it's easy to forget what you signed up for when you're spending vacations at some of the most exclusive resorts in the United States. Until the moment you get a bad case of buyer's remorse. That's when things start to unravel, and you begin to learn exactly what you signed up for.
Or maybe you realized immediately after signing the papers? Whatever the case, if you now feel stuck in a timeshare that you can't seem to be able to get rid of, don't worry. We got your back. Our team has composed a detailed article to teach you how to cancel Vacation Village timeshare. 
We'll help you find the right exit company that is ideal for your timeshare situation. So, what are you waiting for? Take the first step towards financial freedom. It's easy! Fill out the form on the right side of the page, or initiate a Live Chat with one of our team members. We'll point you in the right direction to cancel your Vacation Village timeshare.
Vacation Village Timeshare Cancellation
Planning a vacation to the sunny shores or breathtaking landscapes at one of the 50 Vacation Village timeshare locations can seem like a dream come true. However, as the ownership reality starts to settle in, you begin to realize what was promised to you isn't exactly what you received.
Founded by James E. Lambert in 1975, Vacation Village has held some of the most exclusive destinations throughout the United States. With resorts like Vacation Village at Parkway, or Vacation Village at Weston,  it's no wonder they partnered up with RCI and Interval International. Together they've created 'Vacation Village Resorts and Affiliates' with one goal; to give owners various options unlike no other.
If you're searching for the secret to a Vacation Village Timeshare Cancellation, search no further. Our team put together this helpful guide to show you a step-by-step process on how to cancel a Vacation Village timeshare. Let's begin.
Vacation Village Cancellation Policy
If you recently purchased a Vacation Village timeshare, you will need to act fast! The rescission period is the easiest yet, commonly missed opportunity due to its limited window to cancel. The good news is if you do qualify, you can still receive a full refund, even if you paid in full.
Read through the Vacation Village Cancellation Policy in your agreement to determine the length of your rescission period. Rescission Laws vary in each state, so your rescission period will be based on the state you purchased your timeshare in. A standard rescission can last 3-14 days, and you can usually find it at the beginning or end of your agreement.
During this time, the resort must receive a written cancellation notice from you by mail. And YES. The format does matter. So make sure everything is up to standards, and you include all the required documents before submitting them to the resort. Another tip, you should mail in using USPS Certified Mail with overnight shipping. I know it's more money, but those couple of dollars could save you thousands. Also, USPS Certified Mail requires a signature upon delivery. So in case the resort accidentally "misplaced" or "lost" your letter, you will have proof if they indeed received your mail.
How To Sell Vacation Village Timeshare
You could learn how to sell Vacation Village Timeshares. I mean, how hard could it be? Shockingly, it's a lot more challenging than it seems. The resale market can cause you tons of headaches if you're not careful.
The market is full of resale platforms, with listing companies all pressuring you into upfront fees for their services. Others will lie and say they have buyers ready to take your timeshare off your hands now. We recommend never paying upfront fees to sell your timeshare. Numerous timeshares on eBay and Craigslist have revealed how desperate many timeshare owners have gotten to find a buyer. Timeshares that were once worth thousands are now being showcased on eBay for as low as $1.
That should be enough to show you just how difficult timeshare resale can be. Most properties drop 80%-90% almost immediately after purchase. If you're still wondering how to sell vacation village timeshares, you're better off alone than hiring an expensive listing company.
Will Vacation Village Buy Back Timeshare?
Vacation Village does not offer an official buy-back program, but you should still try contacting them. You never know, it doesn't hurt to try!
Unfortunately, numerous past Vacation Village complaints mention past owners who were furious with Vacation Village when they first discovered their strict cancellation policy of "No Can Cancellation or Rescheduling" of the vacation.
Vacation Village Timeshare Cancellation with Exit Companies
Having a team of experts who partner up with attorneys to cancel your timeshare is about the best group of people you can have on board.
Unfortunately, just like most timeshare markets, the cancellation industry has had its fair share of scams as well. Beware of phony exit companies who cold call you and try pressuring you for your credit card info. This is why we never recommend paying anyone up-front. Paying the exit companies in full and upfront has led to many timeshare exit scams. Don't be fooled by a 100% Money-Back Guarantee either. You're still paying the exit company upfront with this option too. And if the company decides to file for bankruptcy, and runs off with your money, say goodbye! Because you're never seeing them again.
We hope we were able to shed some light on how to cancel Vacation Village timeshares. If you feel overwhelmed right now, don't worry, we're here to help! Our team always says the most legitimate way to cancel your timeshare contract is by hiring the right exit company that works directly with timeshare attorneys during the cancellation. We recommend companies that allow you to pay with a no up-front fee escrow payment option helps you stay protected from a timeshare exit scam.
Since escrow involves a third-party account to hold on to your fees during the process, this holds the exit company accountable because they don't receive payment until they have successfully cancelled your timeshare. Escrow adds an extra layer of protection, which in return provides peace of mind. Why take the risk when Escrow can eliminate all upfront fees?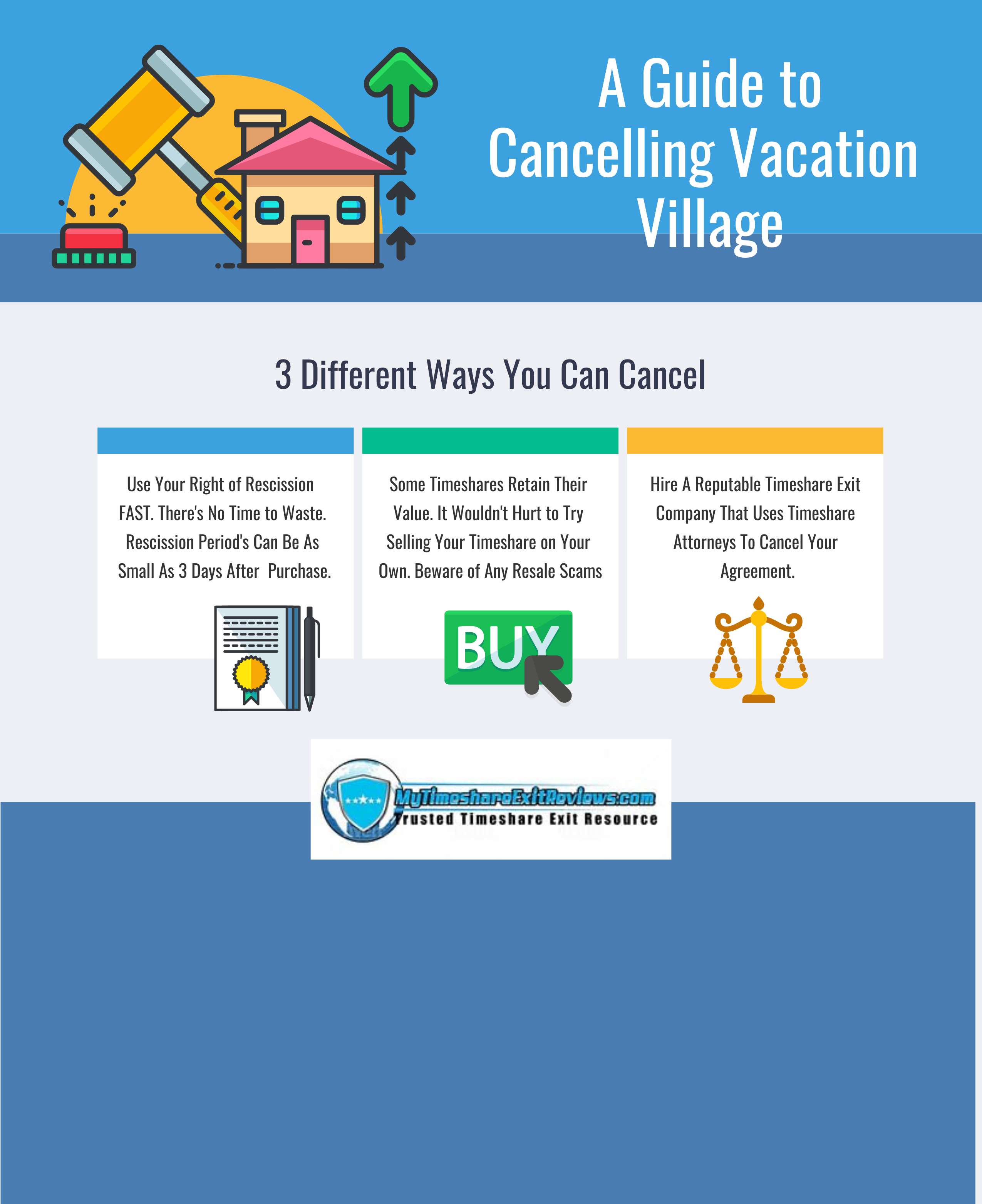 Overall, when it comes to a Vacation Village timeshare cancellation, do not worry because you have options. Our team has come across many online reviews mentioning how most Vacation Village timeshare owners were misled when attending these sales presentation meetings. Although they were a very unpleasant experience, the good news is your misrepresentations can be used to build a strong case in court.  
We started this review site in hopes of increasing your awareness when dealing with timeshare exit companies. Read over our website, fill out the form on the right, or initiate a live chat with us for a free personalized exit consultation. Our team will help connect you with a timeshare exit company with no up-front fees until your timeshare contract is cancelled. There are hundreds of timeshare scams every year. Protect yourself from becoming another victim.