Timeshare Specialists is a timeshare transfer company located in Bozeman, Montana. The company was established in 2014, and they focus on helping timeshare owners get rid of their timeshares.
An interesting statement by Timeshare Specialists was, "we get our customers the best results the best way. First off, we'll let you in on a secret it doesn't take a high-priced attorney to get rid of most timeshares. Our customers can get rid of their timeshare for a fraction of the price those other guys charge". Timeshare transfer companies fall in the gray area because they do not use attorneys, and transferring your timeshare is mostly passing the title over to another company or an individual.
Our team always suggests working with a company that uses attorneys so you protect yourself from all angles. You wouldn't want to fall to a timeshare transfer company that never is successful. In the Timeshare Specialists reviews section of the article, you'll better understand the company. There are few things that you, as an owner you should be aware of before you work with any timeshare removal company. Initiate a Live Chat or fill out the form on the right to protect yourself from potential timeshare scams and get a free informational consultation.
Timeshare Specialists Reviews
As our team goes into detail about Timeshare Specialists reviews, we advise any owner looking to exit their contract to get everything in writing! The majority of the timeshare exit companies over promise and under deliver. If a company promises you to recoup the money, make sure you have that information written in the contract. 
Timeshare Specialists have a unique website. On the homepage, the company has a Timeshare Scam Hotline, which owners can call and get information if a scammer calls them pretending to be a buyer. The company also provides a known list of scams that owners can access if a timeshare scammer has contacted them. We always commend companies that provide up-to-date information that can help timeshare owners. The website also has "Timeshare Specialists Help Articles" with articles regarding timeshare resales, sell your timeshare, get rid of a timeshare, and why your timeshare isn't selling."
The company states that they can help you sell your timeshare. As our team has mentioned multiple times before, selling your timeshare is nearly impossible. If you go on ebay.com or redweek.com, you can see timeshares listed for less than a dollar. Timeshares that have resale value are timeshares located in desirable locations such as Disneyland and Aruba. If a company is willing to guarantee to sell your timeshare, we recommend you get that information in writing.
The company does not state the process of how they can help you transfer your timeshare. Still, as our team has reviewed various Timeshare Specialists reviews, we have concluded the company charges up-front fees for their services. As we mentioned countless times, never pay any company up-front; it is recommended you work with companies that offer escrow.
Why would you want to run the risk of paying thousands up-front and never hearing back from the company? There are very few companies that have an authentic 100% money-back guarantee. If you're in a situation where you are not sure if you should work with a company that offers escrow or a 100% Money-Back Guarantee, initiate a Live Chat or fill out the form on the right.
Timeshare Specialists provides three different services. The first service the company offers is a "Guaranteed Transfer Program." The company states If you want to avoid the hassle of trying to sell your timeshare or you're looking to transfer your title quickly, we will use our expertise to find a new owner for you- guaranteed. As our team tried to look into their transfer process, we could not find a lot of information.
The second option the company offers is a Timeshare Buy Back. The company states if you own a high-end timeshare like Marriott, Hyatt, or Hilton, they'll make you an offer. If you do happen to own a timeshare in these locations, we suggest you get any written offer in-writing and confirm with the company that all closing costs are listed up-front, so you don't face hidden fees.
The following service the company offers is Timeshare resale Tips and Tricks. Timeshare Specialists' reviews mention how the company offers to show you how you can resell your timeshare. The company recommends refinancing your timeshare as well. This is a warning flag! Many banks will not refinance a timeshare because refinancing is a liability on its own. The reason why most banks reject timeshare refinancing is that the contracts are absurd. Timeshare contracts charge upwards of 20% interest on their mortgage, and they are equipped with ridiculous yearly fees. If a company is calling you to refinance your timeshare, be aware! Below is a statement directly from Timeshare Specialists regarding their scam hotline.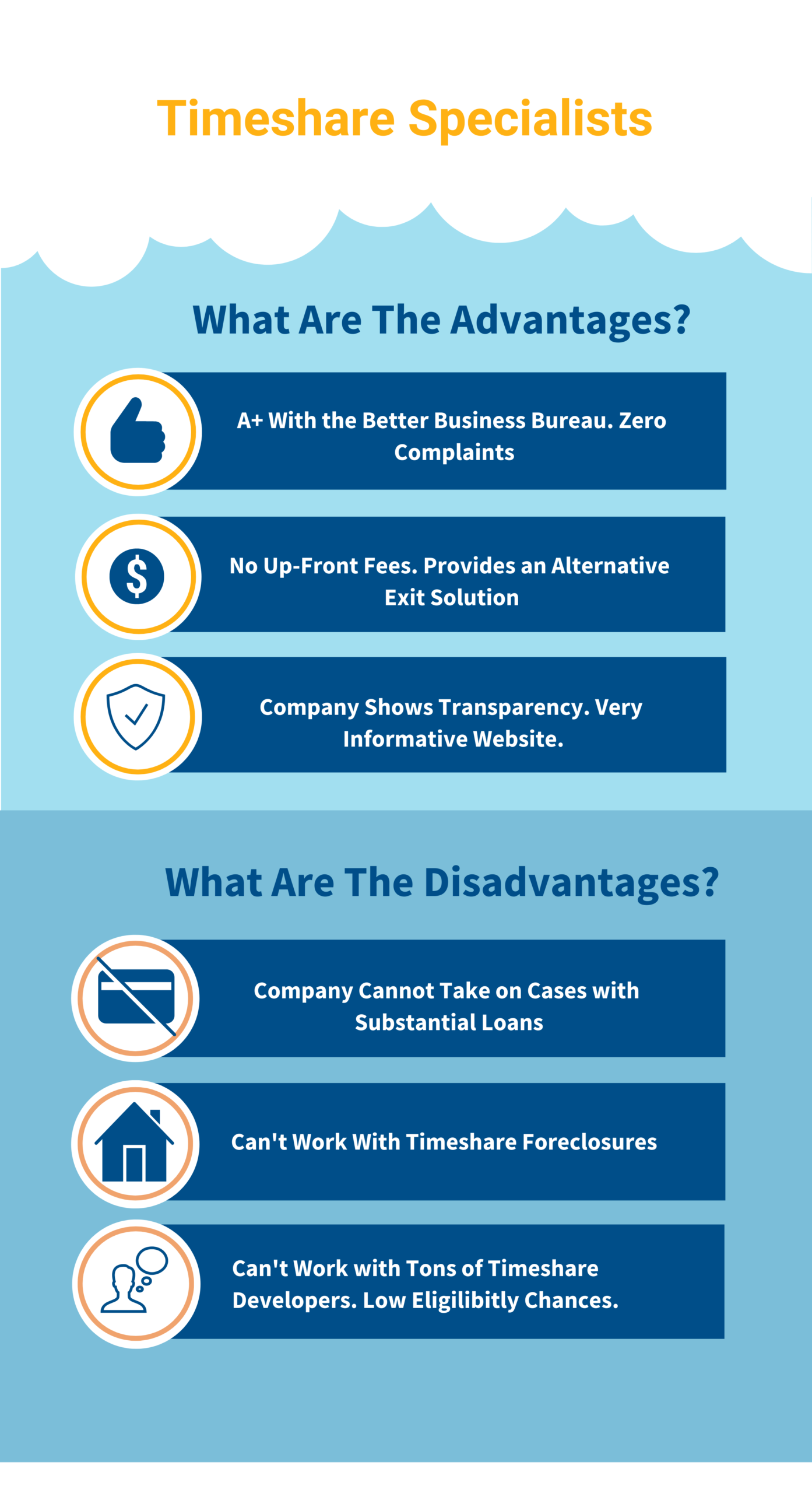 Timeshare Specialists Fees
Timeshare Specialist's fees are not mentioned on their website. This is a common practice, and it makes sense. How can a company know what the cost will be without assessing your case and details? As our team analyzed numerous reviews, many timeshare owners are stating Timeshare Specialists' fees range from $2,000-$6,000. The cost is relatively average in the timeshare exit industry. If a company is assessing a fee before they talk in detail about your situation, run! Many timeshare exit companies want your money, be wary of such scam companies.
Timeshare Specialists' fees may range if your timeshare has a mortgage. If you are quoted a substantial cost, we suggest you haggle the price with any company. Some companies prey on timeshare owners who are desperate to exit their timeshare.
Timeshare Specialists Ratings
Update as of March 2021. The Timeshare Specialists BBB page has an "A+" rating with accreditation since 11/1/2012. The company also has a 5-star rating out of 15 customer reviews and 0 Timeshare Specialists complaints. The company has 400 customer reviews on Trustpilot with a 4.9/5-star rating. The company does not have Yelp reviews, but the Timeshare Specialists' Facebook page does have a 5/5 star rating out of 4 reviews.
Timeshare Specialists have a strong reputation Trustpilot, but the other platforms are nowhere near those numbers. Our team did find this gap concerning. Below is the most recent Timeshare Specialists' BBB Review:
Overall, Timeshare Specialists reviews are positive. Many clients are satisfied with their services and with the company. We would have liked it if the company utilized attorneys or provided details about their transfer process. Timeshare Specialists have positive reviews on various platforms, but the company does not provide detailed information on how they help timeshare owners.
If you need help finding the right timeshare exit company, contact our team so we can help you determine if a timeshare exit company is legitimate, and we recommend working with timeshare exit companies that offer escrow so you pay no up-front fees. Know your legal right so you can exit your timeshare contract legally. Read over our website and fill out the form on the right or contact us through Live Chat for a free informational consultation.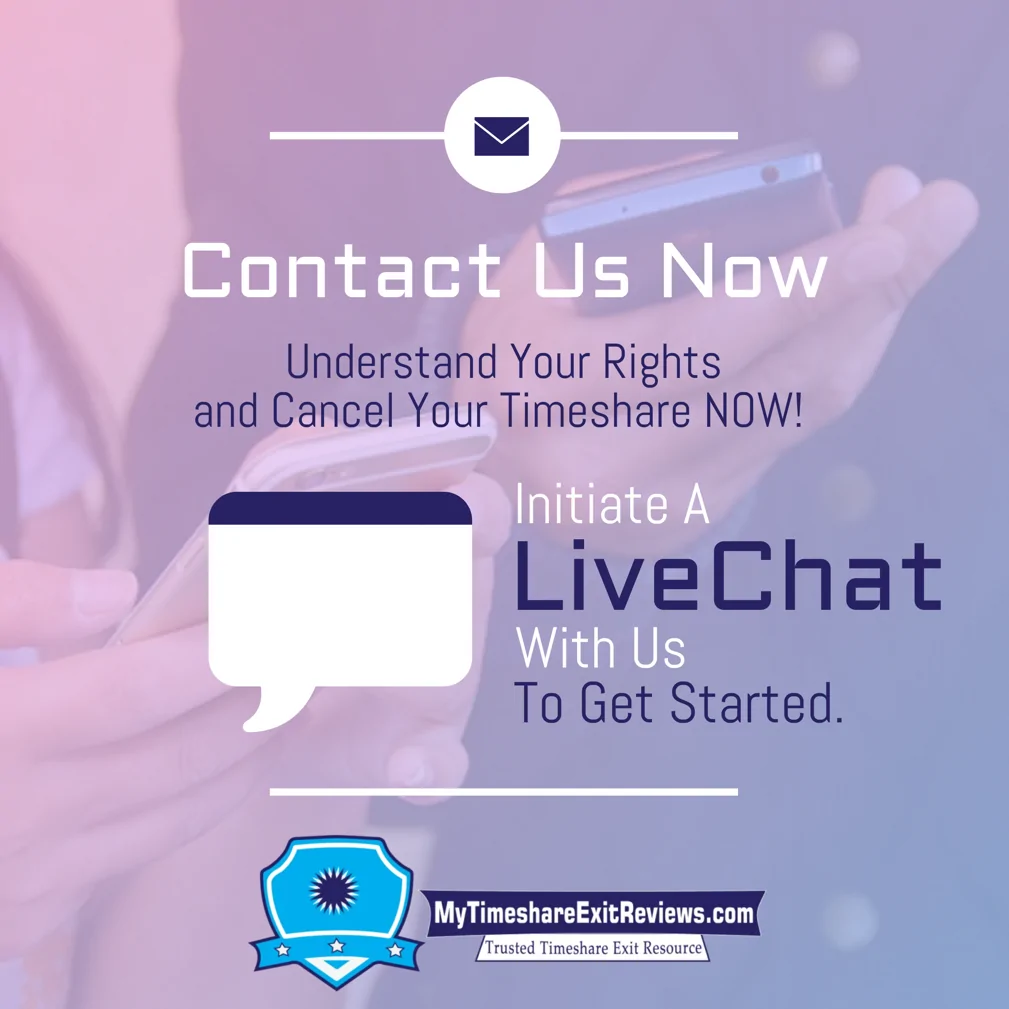 There are no reviews yet. Be the first one to write one.
Free Informational Consultation
By providing my contact information and clicking 'submit', I am giving MyTimeshareExitReviews.com and its partners permission to contact me about this and other future offers using the information provided. This may also include calls and text messages to my wireless telephone numbers. I also consent to use of emails and the use of an automated dialing device and pre-recorded messages. I understand that my permission described overrides my listing on any state or federal 'Do Not Call' list and any prior listing on the 'Do Not Call' lists of our partners. I acknowledge that this consent may only be revoked by email notification to info@www.mytimeshareexitreviews.com.
FREE Timeshare Exit Guide
Timeshare Laws Regarding Cancellation
Free Timeshare Exit Cost Assessment