Why Timeshares Lose Value
Timeshares were once considered a great investment, but they are becoming a burden day by day. As yearly maintenance fees have increased every year, timeshares are turning into a nightmare for many owners. Even though timeshares do not impact your credit directly, there are several situations in which timeshares can have a bad effect on your credit. You may purchase your timeshare due to several reasons. These reasons may include financial benefits. Therefore, you must consider the most common things before buying a Timeshare from a salesperson who just wants to achieve their sale.
If you own a timeshare previously, a salesperson can promise to sell this to purchase a new one. Later on, they will not sell your previous timeshare.
A salesperson will show it as an investment opportunity. If this is so, then 80% of current timeshare owners would not want to get rid of their timeshares. 
A salesperson may try to deceive you, promising a bonus week or a rental program. These incentives are a sales tactic, and the companies will not offer this later on.
Timeshares may be a sensible purchase for you if you want to create memories and do not mind the inflating costs. 
Timeshares can be very expensive, and a timeshare purchase typically requires a down payment with a 10-year loan term.  
You will also have yearly maintenance fees that can increase up to 25% a year! Timeshares are a pricey expense.
As time passes, your preferences will change. It is evident that in early ownership, people enthusiastically visit their timeshare. Later on, they may want to stay somewhere else instead. 
If you were misled into signing a mortgage by your timeshare company, we suggest you initiate a Live Chat or fill out the form on the right. Many timeshare owners are not aware they have the legal right to exit their timeshare. It's time to take action against your timeshare company; the majority of these companies only care for their pockets, and not the consumer.
Even Forbes agrees timeshares are not a valuable investment. The biggest misconception of value is when a timeshare is described as a real estate property.
Timeshares are not like real estate. 
When you own a real estate property, you own everything on that property. 
If you own a timeshare, you only own a particular week in that year. 
You cannot rent the unit out all year long, and you can only rent the unit out when it is your week in that year. 
If you owned the property, wouldn't you be receiving some passive income instead of paying thousands every year for something you may never use? Timeshares are worthless in today's economy and market. If you were sold a timeshare by making you believe that you would own real estate, you might have been scammed. In such a case, we suggest you contact us through Live Chat so we can help you exit your timeshare contract by exposing you to your legal rights.
Are Timeshares Profitable?
Timeshares do not generate profits from increased value. In fact, timeshares decrease in value, even when they're in a highly desirable location. Just like vehicles, timeshares start losing value right away, and their value usually continues to drop as time passes. Timeshares are also nearly impossible to resell. 
New and used timeshare markets are abundant in supply, outweighing their demand, which is a bad sign.
The reality is there's no official timeshare resale market you can list your timeshare on. Try searching for a timeshare on Google and see for yourself. 
Many listings on sites such as eBay or Craigslist have bids starting as low as $1! Sure you believe your timeshare is worth more than $1. 
I mean you paid thousands for it! But unfortunately, that's how desperate timeshare owners have gotten by waiting to find a buyer. 
So, even if you do manage to sell off a timeshare eventually, expect a price considerably lower than what you paid. 
Also, try not to think about the thousands you shelled out for maintenance fees over the years, now that is something that you should consider when you purchase a timeshare.
At first glance, timeshares always look attractive for spending spare time and vacations. Later, a long list of reasons can make this attractive option appalling. You must remember that getting out of your timeshare is more challenging than you think.You may realize it was a big mistake after signing the timeshare contract and can feel trapped. Eventually, you can find yourself among those 85% of timeshare owners who want to eliminate their timeshare. It can be because of the following reasons:
What was once a glittering holiday you looked eagerly towards every year quickly becomes an obstacle as reality kicks in.
Schedules never line up, and management costs skyrocket, or worse, You were offered a high-end unit or an outstanding spot that was never completely delivered.
You might be thinking about your options, the process of getting out of a timeshare contract, and how expensive the process is.
If you need more information, read this article and get inside info on why your timeshare may be costing you a lot more money than you think. 
If you are considering canceling a timeshare contract, make sure to read our timeshare exit company reviews. 
Our team provides insight into various timeshare exit companies so that you can make an informed decision. We also recommend you contact your developer to see if they have any options available for cancellation.
Getting Rid Of A Timeshare Contract
Most of the countries have made timeshare rescission laws. These laws permit the owners to return their timeshare directly to the timeshare company for a full refund. 
If you have purchased your timeshare recently, you can use this method to get rid of it.
The rescission period is usually from 3 to 10 days and sometimes it is also for a whole month. 
You can return your timeshare within these days for free which means you will not have to bear any kind of penalty. 
You need to look through your contract and look for the mentioned rescission period. 
You can also contact your timeshare company, they will guide you about the rescission period.
If your rescission period is already over, selling your timeshare is the next option. Selling a timeshare independently is difficult because you need a reasonable price. The main reason is timeshares decrease in value considerably after purchase. If you want to sell your timeshare through a broker this method is excellent if your timeshare is of fair value.
You can sell your timeshare through a broker. Timeshare brokers work on commission. Therefore, they like to sell a well-valued timeshare to earn a good amount.
Because of the broker's commission, this method may be costly. This method's average cost to get out of timeshare depends on the commission rate. A low effort from your side is required.
Contacting a timeshare exit company can be another option to get rid of your timeshare contract. 
Hiring an experienced exit company who will work vigorously on successfully canceling your timeshare can be very useful. 
Don't get duped into bad deals from companies that offer a "100% Money Back Guarantee." Only to disappear in a few months with all your money as they file for bankruptcy.
We recommend timeshare exit companies that offer a no up-front fee escrow option or a 100% money-back guarantee. If you choose to stop your timeshare payments after you sell your timeshare, unfortunately, you are still responsible for the monthly and yearly fees if the new "owner" isn't paying them.
 Always work with a licensed professional! Or you can reach out to us so that we can help you find the best timeshare exit company for your situation. Start a Live Chat with one of our agents or you can give us a call at (833)-931-6555 for more information.
We recommend avoiding any high-pressure sales tactics for this reason. And never give out any credit card information before any completed cancellation services. Timeshare exit companies that work directly with timeshare attorneys to help you cancel your timeshare are the next best option. The attorney's role is to look for misrepresentations in your contract. Or misrepresentations you faced when you purchased the timeshare.
Timeshare contracts can be financially stressful. 
Suppose you consider exiting your contract and do not own a timeshare with Diamond, Hilton, Marriott, or Westgate. 
In that case, we suggest you contact a timeshare exit company that can help relieve your mortgage and yearly maintenance fees. 
Read over our website and fill out the form on the right or contact us through Live Chat for a free personalized informational consultation.
Our team will help you determine if a timeshare exit company is legitimate and if the company offers no up-front fees until your timeshare contract is canceled. There are hundreds of timeshare scams every year, to protect yourself from becoming another victim contact us so we can help you out.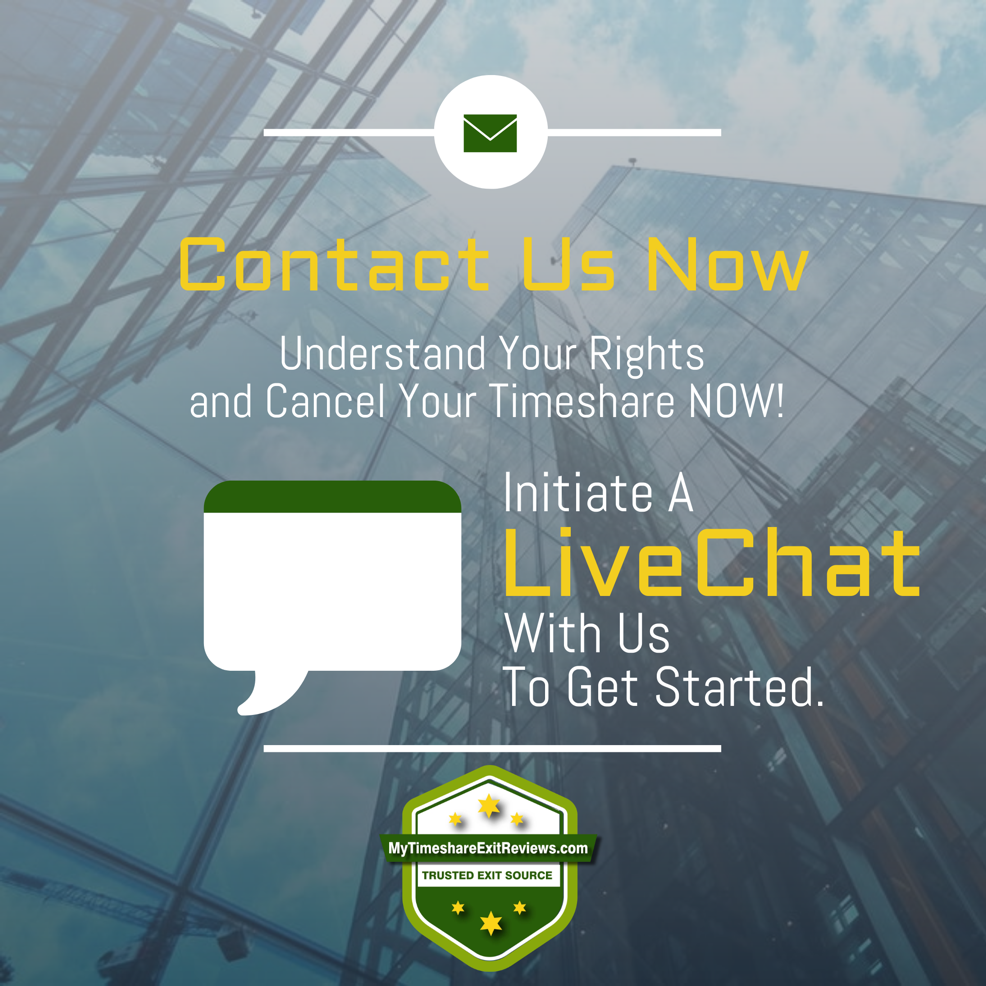 Free Informational Consultation
By providing my contact information and clicking 'submit', I am giving MyTimeshareExitReviews.com and its partners permission to contact me about this and other future offers using the information provided. This may also include calls and text messages to my wireless telephone numbers. I also consent to use of emails and the use of an automated dialing device and pre-recorded messages. I understand that my permission described overrides my listing on any state or federal 'Do Not Call' list and any prior listing on the 'Do Not Call' lists of our partners. I acknowledge that this consent may only be revoked by email notification to info@www.mytimeshareexitreviews.com.
FREE Timeshare Exit Guide
Timeshare Laws Regarding Cancellation
Free Timeshare Exit Cost Assessment