Gallagher Law Firm states they can offer you legal assistance to exit your timeshare. Started by Mr. Charles E. Gallagher, there is no exact establishment date of the law firm. The only information available is they opened a BBB File on 1/13/2020
Mr. Charles Gallagher, however, is a practicing Georgia Lawyer with 34 years of experience. Registered with the State Bar of Georgia since 04/15/1987, Charles has an impressive background with more than 20,000 real estate transactions and successful litigations against Fortune 500 companies. Not to mention his work experience with the US Department of Health and Human Services, food franchise companies, hotel chains, and a national mortgage company.
With an owner who has such a well-established career, we found it shocking to see Gallagher Law Firm has an "F" rating with the Better Business Bureau. Not to mention they've only recently opened a file with the BBB, and they are still not accredited with the Better Business Bureau. If you're looking for a fair and honest review of the Gallagher Law Firm, look no further.
Our team has compiled an in-depth review filled with many pros and cons to give our readers better insight into how Charles Gallegher and Gallegher Law Firm operates. We believe every timeshare owner should know a couple of tips before working with any exit company, initiate a live chat, or fill out our free consultation form to learn more.
Gallagher Law Firm Reviews
Gallagher Law Firm timeshare reviews are scarce and completely opposite from one another. Past Gallagher clients either loved or hated their experience with the firm; there's no in-between. This does make you question the authenticity of the reviews.
Evaluating the firm in further detail, we discovered some surprising information. It is crystal clear that Gallagher Law Firm is entirely behind its owner Mr. Charles E. Gallagher. A company with the full support of its owner is a positive indicator of legitimacy because it demonstrates they are willing to put their reputation on the line. And it does help when your owner is an experienced attorney with 34 years of practice. We always say having an experienced timeshare attorney to guide you through the timeshare exit process is the most legitimate way to exit a timeshare contract.
As we reviewed the Gallagher Law Firm website, we immediately noticed the company has a sleek, professional site with some very bold statements. "Timeshare Law Specialists. Expert Legal Assistance Nationwide. Guarantee the termination of your entire timeshare contract as early as 3 months." These are the kind of statements you want to read when searching for the right exit company. Unfortunately, with an "F" rating on the Better Business Bureau and a lack of a strong positive online presence, how legitimate are these claims?
Gallagher Law Firm does have a "Services" page; however, there's no explanation of which services the company offers. This page seemed to be more of a self-assessment page for owners to determine if timeshare termination is the right option for them. Helping owners see what options are available to them is an excellent sign of legitimacy. However, withholding information on what services are offered or how exactly the company will cancel your timeshare can seem suspicious. Transparency is key for companies that want to gain the trust of timeshare owners.
The next page we came across is Gallagher Law Firm's "Timeshare Lies" page. We give kudos to the company here for showing effort in informing its viewers about the common lies in the timeshare industry. They also have an "FAQ" page where Gallagher Law Firm answers some common questions owners may have. As we took a closer look, we determined the company offers a 100% guarantee of their services, which translates to a 100% Money-Back Guarantee. Charles Gallagher and the Gallagher Law Firm do well here by providing some reassurance to their clients. Unfortunately, a 100% Money-Back Guarantee does not protect you from all exit scams.
Overall we cannot recommend Gallagher Law Firm. We only recommend exit companies that offer a no up-front fee escrow payment option, so you stay protected from an exit scam. Yes, they use timeshare attorneys, but you still pay up-front fees before your timeshare has been cancelled. And as our team continued to review the company in detail, we discovered Charles Gallagher had his fair share in lawsuits from timeshare developers. To learn more, please continue reading the sections below.
Gallagher Clifton Law Firm Lawsuit
Filed on 03/11/19 with the United States District Court Middle District of Florida Orlando Division, U.S. District Judge Gregory A. Presnell denied two motions to dismiss two separate Wyndham Vacation Ownership lawsuits against exit companies. Of those two lawsuits, one happened to include the defendant's Timeshare Owners Relief LLC, Resort Legal Team, William Steward Jr., Charles Gallagher, and Gallagher-Clifton LLC.
Wyndham states Stewart, Timeshare Owner Relief, and Resort Legal Team recruited lawyers (Charles Gallagher) and together created a fake law firm (Gallagher-Clifton) to advertise "timeshare cancellation services," but failed upon delivery. Charles Gallagher is a registered lawyer with the State Bar of Georgia. The issue is that Gallagher-Clifton is not a law firm, and Charles denies any representation of any consumers in the role of a lawyer when Timeshare Owners Relief and Resort Legal Team were advertising otherwise. Click here to learn more about Wyndham v Gallagher Law Firm.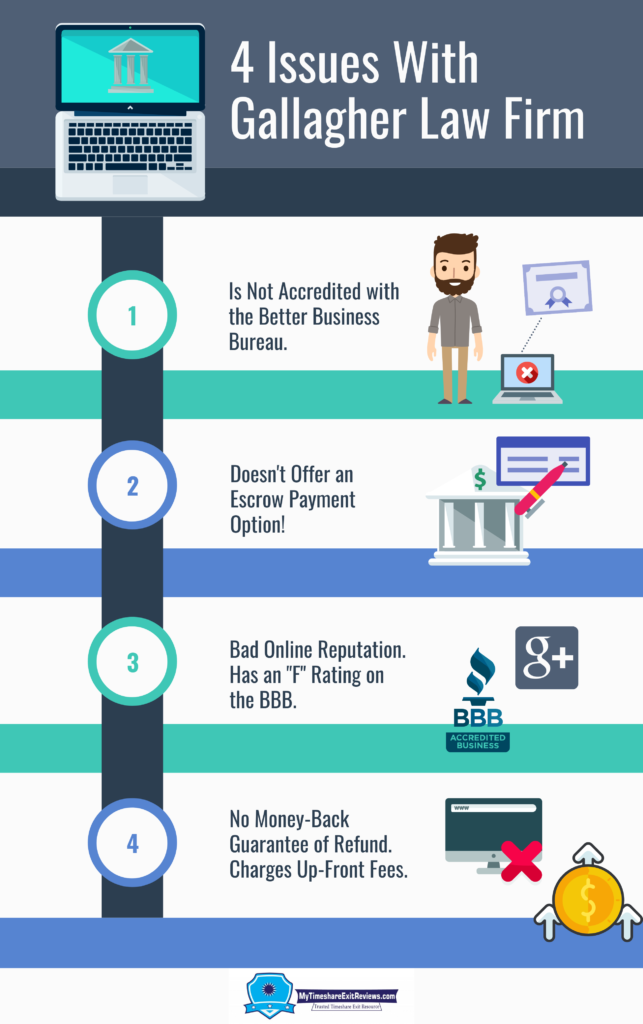 Gallagher Law Firm Costs & Fees
Gallagher Law Firm costs & fees are not listed online. This is relatively common in the timeshare cancellation industry. Most timeshare exit companies don't mention their fees online because prices are typically based on your timeshare agreement's complexity. And if you still owe a mortgage balance, this can increase your exit fees, too, since these contracts are tougher to get out of.
Due to the scarcity of Gallagher Law Firm reviews, we could not confirm how much the Gallagher Law firm costs. A standard range in the timeshare cancellation industry can run from $3000-$8000, depending on your situation.
Still, we never recommend you pay any up-front fees, so you stay protected from a timeshare exit scam. And If someone charges you something outside of this range, we suggest you explore other exit options. Never forget to negotiate your price a little. Remember, it doesn't hurt to try, and it can only benefit you.
Gallagher Law Firm Ratings
Update as of March 2021; the Gallagher Law Firm BBB page has an "F" rating with a 5-star rating out of 5 customer reviews. However, the company has had 6 complaints in the last 12 months, and they are not accredited with the Better Business Bureau.
The company has no ratings on Trustpilot, no Yelp reviews, Facebook page, or Google reviews. Our team has assessed the company a 2.0/5.0 MyTER Rating based on all the information gathered. Below is the 2 most recent Gallagher Law Firm reviews from the BBB: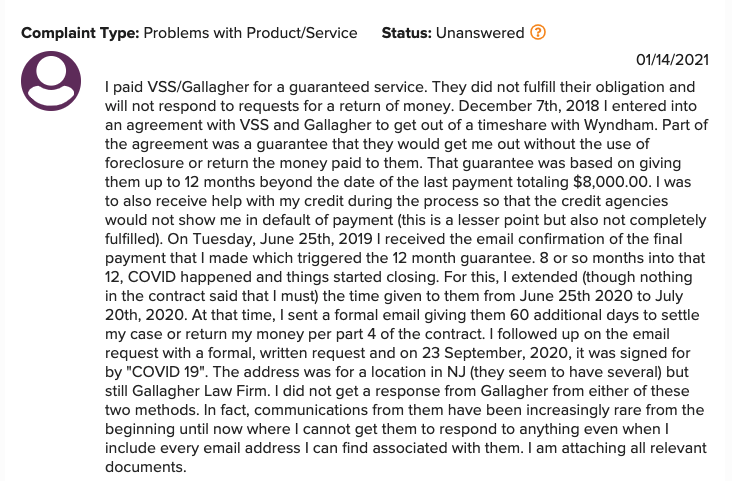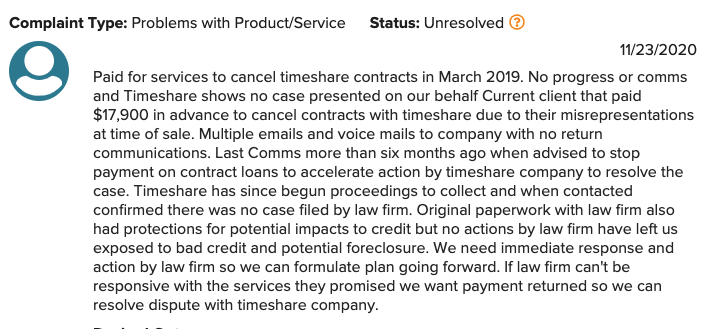 Overall, we do not change our recommendation. They aim to help owners cancel their timeshare contracts with assigned attorneys, which is excellent. But the Gallagher Law Firm lacks a strong positive presence online. There are more Gallagher complaints than there are reviews! And they do not offer an escrow payment option, meaning you will have to pay up-front fees. Nothing is mentioned on their site about how they cancel your timeshare. And despite their testimonials page, there are no video testimonials to back up their claims.
We recommend you read over our website, fill out the form on the right or contact us through Live Chat for a free personalized consultation. We'll help you determine if an exit company is reputable. Our team recommends working with trustworthy timeshare exit companies that offer an escrow option, so you pay no up-front fees until your timeshare contract is cancelled. Learn more about how you can protect yourself against a timeshare exit scam!
Dude is a wannabe be Georgia Bulldog scammer
This guy is a complete fraud. What else can I say? Thief?
Wyndham Timeshare exit with Gallagher-Clifton
We signed up to rid ourselves of our Wyndham Timeshare. Gallagher – Clifton has not been in touch with us for over a year!!! We have called an emailed and still have not received anything about the process and where we stand in the process!! We paid way more than the approximate about given here, promise of getting our money back and out of the timeshare, and making sure our credit has not been harmed. They do not deserve any stars as they have not done anything but take our money!!!
Free Informational Consultation
By providing my contact information and clicking 'submit', I am giving MyTimeshareExitReviews.com and its partners permission to contact me about this and other future offers using the information provided. This may also include calls and text messages to my wireless telephone numbers. I also consent to use of emails and the use of an automated dialing device and pre-recorded messages. I understand that my permission described overrides my listing on any state or federal 'Do Not Call' list and any prior listing on the 'Do Not Call' lists of our partners. I acknowledge that this consent may only be revoked by email notification to info@mytimeshareexitreviews.com.
FREE Timeshare Exit Guide
Timeshare Laws Regarding Cancellation
Free Timeshare Exit Cost Assessment