Pennsylvania Timeshare Cancellation Laws
Understanding the state's timeshare cancellation laws is essential if you're a Pennsylvania resident in a timeshare predicament. Timeshares can be appealing at first, promising dream vacations and luxurious getaways. However, they often come with hidden costs, binding contracts, and relentless sales tactics. Fortunately, Pennsylvania has implemented specific laws to protect consumers like you from unfair practices within the timeshare industry. 
At mytimeshareexitreviews.com, we are dedicated to providing comprehensive information about Pennsylvania timeshare laws regarding the cancellation. To protect your interests and make informed decisions, it is essential to be well-informed about the legal aspects of timeshare ownership, including cancellation rights. This article will delve into the intricacies of Pennsylvania timeshare laws to help you navigate cancelling a timeshare agreement in the state.
Key Elements of Pennsylvania Timeshare Cancellation Laws
To ensure you have a comprehensive understanding of Pennsylvania timeshare cancellation laws, let's explore some of the key elements:
Rescission Period: The right to rescission grants consumers a limited period to cancel their timeshare contracts without penalty.
Disclosures and Cancellation Notices: Sellers must provide clear and conspicuous disclosures and a notice of the right to cancel.
Unfair Sales Practices: Pennsylvania prohibits timeshare sellers from engaging in misrepresentations, and consumers have a cooling-off period to reconsider their purchase.
Escrow of Deposits: Deposits paid by consumers must be held in an escrow account to protect their funds until the transaction is finalised.
Pennsylvania Timeshare Resale Laws: Additional regulations exist to address the complexities of timeshare resales and protect consumers from scams.
Now that we have an overview of Pennsylvania's timeshare cancellation laws let's dive deeper into each aspect to empower you with the knowledge needed to protect your rights as a consumer.
Understanding the Basics
Pennsylvania recognises the importance of safeguarding consumers' interests in timeshare transactions. The Pennsylvania Timeshare Act provides crucial protections for individuals who cancel their contracts. These laws establish guidelines for disclosures, cancellation notices, rescission periods, and unfair sales practices.
What is the Right to Rescission?
The right to rescission allows timeshare owners to cancel their purchase contracts within a specified period without penalty or obligation. In Pennsylvania, the rescission period is seven calendar days from the contract's signing or receipt of the disclosure statement, whichever occurs later. During this period, timeshare owners have the right to change their minds and rescind their contracts for any reason without having to justify or explain their decision.
The right to rescission is an important safeguard that helps protect consumers from high-pressure sales tactics, misrepresentations, or other fraudulent practices that may occur during the timeshare sales process. It allows buyers to review their purchase decision, consider its long-term costs and benefits, and make an informed choice.
The right to rescission is a valuable tool that empowers timeshare owners to protect their interests and make sound financial decisions.
How Long is the Rescission Period?
In Pennsylvania, the rescission period typically lasts for five calendar days. This means you have five days from signing the timeshare contract to cancel it without incurring any penalties or fees. It's important to note that weekends and holidays are included in the calculation of the five days.
During rescission, timeshare owners can change their minds and reconsider their purchase decision. This period allows them to review the contract, consult a lawyer or financial advisor, and assess the long-term costs and benefits of owning a timeshare. If they cancel the contract, they must notify the timeshare company in writing and return any materials or items received as part of the purchase process. The timeshare company must refund any money paid within 20 days of receiving the cancellation notice. Act quickly during the rescission period and not delay exercising your right to cancel is essential. Please do so to avoid the loss of your right to rescind the contract or incur additional costs and penalties. Always read and understand your contract's rescission clause and consult a legal professional if you have any questions or concerns.
How to Exercise Your Right to Rescission
To exercise your right to rescission and cancel your timeshare contract in Pennsylvania, follow these steps:
Review your timeshare contract to locate the specific instructions for cancellation. Look for details regarding the rescission period and the method of cancellation.
Prepare a written notice of cancellation. Include your name, address, timeshare contract details, and a clear statement expressing your intention to cancel the contract.
Send the cancellation notice via certified mail with a return receipt requested. This method ensures proof of delivery, and you exercised your right to rescission within the prescribed period.
Retain copies of all correspondence, including the cancellation notice, for your records. These documents can be essential if any disputes or issues arise later.
Following these steps, you can effectively exercise your right to rescission and cancel your timeshare contract within the designated period.
Statutory Rights for Timeshare Cancellation in Pennsylvania
Under Pennsylvania law, timeshare purchasers are granted certain rights that offer protection and options for cancelling a timeshare agreement. The Pennsylvania Real Estate Act and other relevant statutes outline the state's legal framework for timeshare transactions. Here are the key points to consider:
Right of Rescission
Pennsylvania provides a "right of rescission" or a cooling-off period, which allows timeshare buyers to cancel their purchase within a specified timeframe without any penalties or obligations. The right of rescission in Pennsylvania is five calendar days from signing the timeshare contract.
During this cooling-off period, it is crucial to thoroughly review the terms and conditions of the agreement, seek legal advice if necessary, and consider whether the timeshare aligns with your long-term goals and financial capabilities.
Disclosure Requirements
Pennsylvania requires timeshare developers and sellers to provide detailed disclosures to potential buyers. These disclosures should include accurate and transparent information about the timeshare property, its amenities, associated costs, maintenance fees, and potential risks or limitations.
The law aims to empower buyers to make informed decisions about their timeshare purchases by ensuring that all relevant details are disclosed. If a seller fails to provide the necessary disclosures or misrepresents the information, it can significantly impact the validity of the timeshare contract.
Non-Disturbance Clause
Pennsylvania timeshare laws also include a non-disturbance clause, which prohibits developers from making any changes to the timeshare property that would substantially impair the buyer's intended use and enjoyment. This clause ensures that buyers can rely on the amenities and services promised at the time of purchase.
If a developer breaches the non-disturbance clause, the timeshare owner may have grounds for cancellation or other legal remedies. It is important to consult with an attorney to assess the situation and determine the best course of action in such circumstances.
What is an Escrow?
In timeshare transactions, buyers often provide deposits to sign their commitment to the purchase. To safeguard these funds, Pennsylvania requires that timeshare sellers hold consumer deposits in an escrow account. An escrow account is a separate account held by a neutral third party who ensures that the funds are handled appropriately and are only released when certain conditions are met.
The Importance of Escrow
Escrow accounts play a vital role in protecting consumers' funds. By entrusting the deposit to an independent escrow agent, buyers can have peace of mind knowing that their money is secure until the transaction is completed. If any disputes or issues arise, the escrow agent can mediate and facilitate the return of the deposit to the buyer if necessary.
Cancelling a Timeshare in Pennsylvania
Suppose you are in a situation where you wish to cancel your timeshare in Pennsylvania. Following the proper procedures to protect your rights and avoid unnecessary complications is crucial in that case. Here is a step-by-step guide to help you through the process:
Review the Contract
Carefully review your timeshare contract to understand the specific cancellation provisions and any associated fees or penalties. Take note of the deadline for cancelling under the right of rescission.
Draft a Cancellation Letter
Prepare a written cancellation letter addressed to the timeshare developer or management company. Clearly state your intent to cancel the timeshare contract, including all relevant details such as your name, address, and timeshare purchase information.
Send the Cancellation Letter
Send the cancellation letter via certified mail with a return receipt requested. This ensures proof of delivery and creates a documented record of your cancellation request.
Retain Copies and Maintain Records
Keep copies of all correspondence, including the cancellation letter and delivery receipts, for your records. These documents can be crucial in future disputes or legal proceedings.
Seek Legal Guidance
Consider consulting an experienced attorney specialising in timeshare law to assess your situation and guide you through the cancellation process. A legal professional can provide personalised advice and help protect your rights.
Prohibition of Misrepresentations
The Pennsylvania Timeshare Act strictly prohibits timeshare sellers from engaging in misrepresentations. Sellers must provide accurate and truthful information regarding the timeshare property, features, amenities, costs, and associated obligations. Misleading or deceptive practices are not tolerated under Pennsylvania law.
Cooling-Off Period
Pennsylvania recognises consumers may feel pressured or rushed into making a timeshare purchase. To address this concern, the state grants a cooling-off period. This period allows buyers to reconsider their decision and allows them to cancel the contract without penalty.
Prohibited Acts by Timeshare Sellers
Timeshare sellers in Pennsylvania are prohibited from engaging in certain acts that may disadvantage consumers. These include:
Coercive or deceptive practices to induce a purchase
Failing to provide accurate and complete information about the timeshare property
Misrepresenting the nature, characteristics, or benefits of the timeshare
Misrepresenting the availability or right to use the property
Failing to disclose any encumbrances or restrictions on the property
By imposing these restrictions, Pennsylvania aims to ensure fair and ethical practices within the timeshare industry, protecting consumers from unscrupulous sellers.
Understanding Pennsylvania timeshare laws regarding cancellation is vital for anyone considering the purchase or seeking to cancel an existing timeshare agreement. You can confidently contact us by being well-informed about your rights and following the appropriate procedures; we are committed to providing accurate and up-to-date information on Pennsylvania timeshare laws and other relevant topics. If you have any further questions or need assistance with your timeshare cancellation, please do not hesitate to contact our team of experts. Remember, knowledge is power when it comes to timeshare ownership, and we are here to empower you every step of the way.
Embarking on the journey of cancelling your timeshare in Pennsylvania opens the door to valuable support from our team of seasoned professionals. Our extensive network of trusted exit solution providers has successfully guided numerous timeshare owners throughout Pennsylvania, ensuring their contracts' legal and permanent termination while safeguarding their credit. At our company, we take pride in leveraging our expertise to empower you for a successful future. We are dedicated to assisting you in finding the most reputable timeshare exit companies that can effectively help you eliminate your timeshare burden. Trust us to be your reliable partner throughout this process, prioritising your satisfaction and ultimate freedom from your timeshare obligations.
Please contact us if you need assistance locating a Pennsylvania timeshare exit solution provider who can formally cancel your timeshare.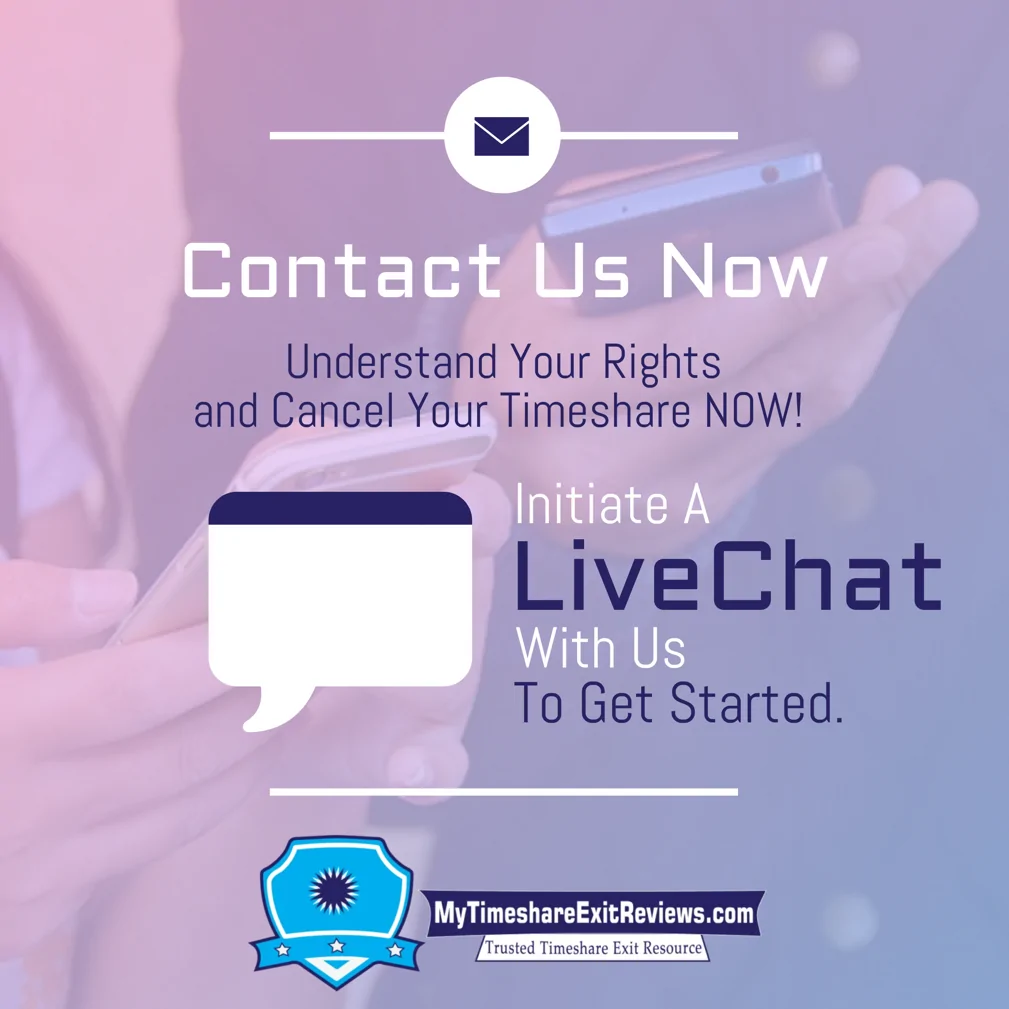 There are no reviews yet. Be the first one to write one.
Free Informational Consultation
By providing my contact information and clicking 'submit', I am giving MyTimeshareExitReviews.com and its partners permission to contact me about this and other future offers using the information provided. This may also include calls and text messages to my wireless telephone numbers. I also consent to use of emails and the use of an automated dialing device and pre-recorded messages. I understand that my permission described overrides my listing on any state or federal 'Do Not Call' list and any prior listing on the 'Do Not Call' lists of our partners. I acknowledge that this consent may only be revoked by email notification to info@mytimeshareexitreviews.com.
FREE Timeshare Exit Guide
Timeshare Laws Regarding Cancellation
Free Timeshare Exit Cost Assessment