Resort Cancellation Services Review
If you're thinking of getting out of your timeshare, or just want to make sure it's as easy and trouble-free as possible, you're probably considering Resort Cancellation Services for your timeshare cancellation.
This service claims that they can cancel your timeshare in any resort in the world, and they will shut down all calls, hidden fees, and even any credit issues you have as a result of the timeshare companies trying to contact you afterward.
So, is this too good to be true? Or are they really the reputable company they claim they are? First, let's take a closer look at their service and see what they have to offer.
How Resort Cancellation Services Works ​
Resort Cancellation Services first started business in 2017 in Orlando, Florida. But with only 4 years of experience, the team claims to have over 20 years of experience. Can they truly deliver on their promises? Let's take a closer look at how they operate.
When they first approach you about canceling your timeshare, they will ask you to fill out a short form with your contact information so that they can get in touch with you later to set up an appointment. If everything looks good and you proceed through with the timeshare cancellation process, then the next step is to set an appointment to meet up with one of their representatives in person. Once you meet with them at the agreed-upon location, they will take payment for the service and then start working on canceling your timeshare.
Their team will work on your behalf to cancel any contracts that you have with your timeshare company and make sure all the associated bills and fees are taken care of as well. They will do this by going directly to the companies and making sure that they don't harass you any more about the timeshare. Once the process is complete, they will let you know that your timeshare has been canceled and that they will no longer receive any future payments from you.
They also offer marketing services for owners who wish to sell their timeshares. And they will even help you find a buyer if your timeshare is no longer required. In some cases, they may even be able to help you sell your timeshare for less than what you owe on it so you can get some money back. Once the buyer has been found, they will handle all the paperwork related to the transfer of ownership to make sure everything goes smoothly.
Resort Cancellation Services Website Review
Their website doesn't contain any additional information about the company itself. And for being a newer company in the industry, the first impression we received from their website was fairly lackluster and dull. Overall, the page looked a bit outdated and not very user-friendly.
The color scheme is quite dark and the text is a bit hard to read. Additionally, there are a lot of stock images, with several statistics, but no links to back up these claims. One statement our team flagged was the company mentions a "6 Year Proven Timeshare Cancellation Program." How can they prove a program that technically is longer than the number of years the company has been in business?
What we liked about their website was the form that you can access to fill out your contact information and receive a free quote for your timeshare cancellation. We also liked that they provide a "Timeshare Cost Calculator" so owners can see a visual presentation of how much they're actually spending.
There are also links above that take you directly to one of their social media accounts. This is a positive sign because it shows that they are engaging with their clients through social media. The only drawback is that their social media pages are relatively new and their number of followers isn't very high yet.
The information that they present on their website definitely looks promising, but it's hard to trust a company that has been around for less than five years with something as crucial as canceling your timeshare contract. It would be one thing if they had been doing this for a long time and had good reviews, but unfortunately, that's not the case here. Unfortunately, the website is filled with exaggerated claims and misleading information, which makes us skeptical as to whether they can really deliver on their promises.
We continued to the company's "About Us" page but found no additional information there either. The only thing we were able to find was a mailing address for the company in Orlando, Florida. We also found a listing of the company's official phone numbers. The other pages were pretty barebones and only contain general information about their services. We were hoping to see more details on how they cancel your timeshare, or what makes them successful with timeshare resales. But there was nothing of the sort on the website.
On the whole, the website is more about selling their services than actually providing useful information about them. Because of this, we found it difficult to trust their information and decided to look elsewhere for further information on the company.
Resort Cancellation Services Cost
Resort Cancellation Services don't post anything online about their prices. The only way to find out how much they charge is to call them and ask for a quote. This Is common for this kind of business because they want the customer to contact them directly.
However, it makes it difficult for customers to compare prices between companies because their quotes aren't posted online. This makes it even harder to choose one over another because pricing isn't clear at all. Especially for a new company in the industry with not much of a reputation online to back up their claims.
Resort Cancellation Services Online Reputation
Since Resort Cancellation Services is a fairly new timeshare exit company, they do not have a strong online reputation just yet. This means that there isn't much out there in terms of reviews for them yet. If we search online for reviews on this company, the only results we get are the reviews from their Google profile. They don't appear to have many online reviews from other websites, which is a sign that they aren't particularly popular or reliable at the moment.
When we came across the Resort Cancellation Services BBB page, we noticed they are not a BBB accredited business. This probably means that they are not that well established, and they haven't been in business for very long. They do have an A+ rating, with a 4.6/5-star rating, but this was only out of 10 reviews in the past 4 years.
On Facebook, they have a 5-star rating out of 1 review. And on Google, they have a 3.0/5-star rating out of 8 reviews. Nothing is mentioned on Yelp or Trustpilot. From this information, it seems that most customers have had positive experiences with Resort Cancellation Services so far, but we don't have many reviews to go by so we can't know for sure at this point
Is Resort Cancellation Services a Scam?
Our team found no mentions of Resort Cancellation Services being a scam just yet. There aren't really a lot of complaints about them online or from customers who have tried their service. But since they are relatively new in the timeshare exit industry, this could explain the small number of complaints or negative reviews. It's also possible that there are just no bad experiences to share about them at the moment!
So for now, it appears that they are a legitimate business that is just trying to help people get out of their timeshare contracts. But if that changes in the future we will be sure to update our article accordingly.
We always recommend doing your due diligence and research about any product or service before you hand over your money to it, so we highly encourage you to check this for yourself too!
In conclusion, we can't really trust what Resort Cancellation Services says about their services because they are a new company in the industry with very few online reviews to show for it.
Until we have more evidence or customer reviews we can trust, we have to be careful with what they claim they can do for us as potential customers. At the very least, we know that you can cancel your timeshare with them and that they offer a 100% money-back guarantee. But this still means you are required to pay money up-front. And there is no guarantee that they will be able to cancel for you without charging you additional fees.
It doesn't help that they have no information on their website regarding the costs and fees involved. This is the type of information that customers tend to look for when they are looking for information about a new company. We recommend companies that offer escrow so you avoid this overall and protect yourself from a potential timeshare exit scam.
To learn more about your options, please fill out the form on the right side of the page. Or you can initiate a Live Chat with one of our representatives by clicking the button on the bottom of your screen. One of our agents would be happy to speak with you about your options and help you determine if a timeshare exit program is right for you.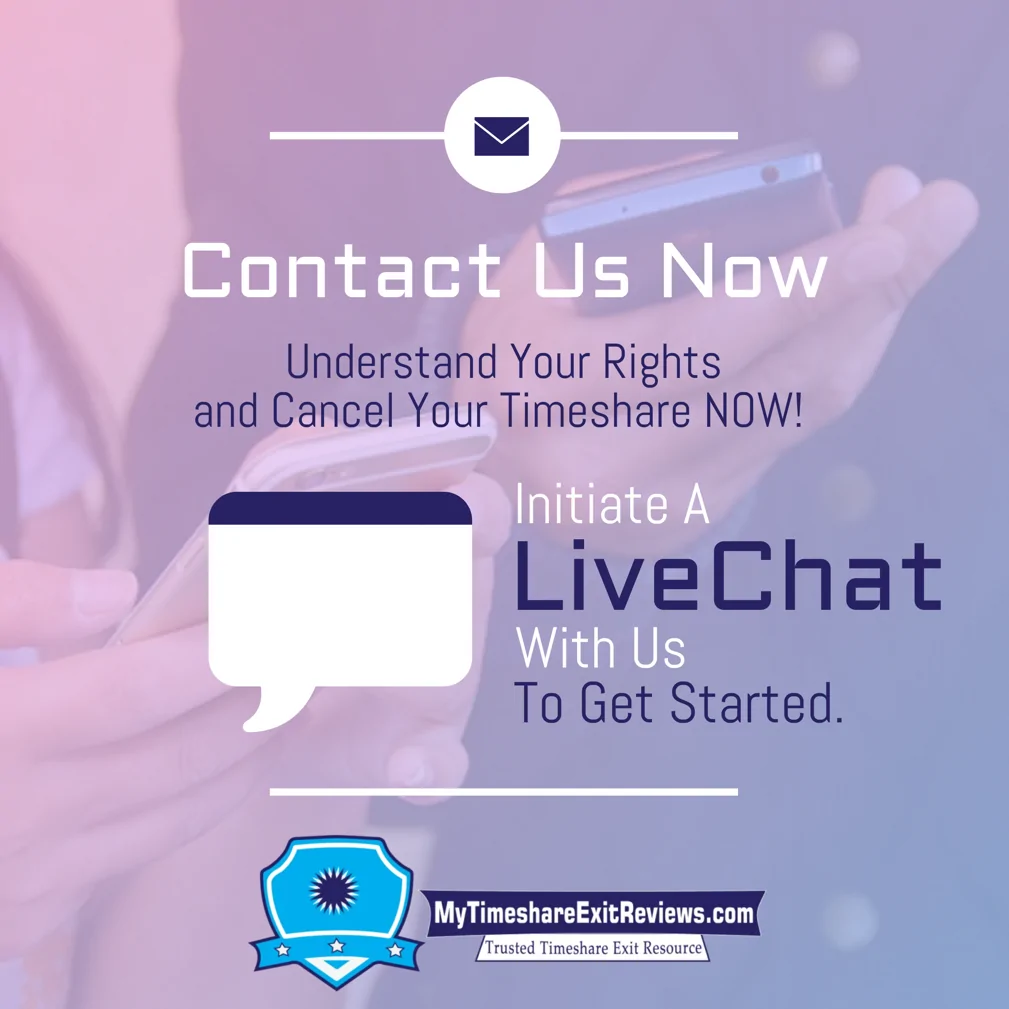 There are no reviews yet. Be the first one to write one.
Free Informational Consultation
By providing my contact information and clicking 'submit', I am giving MyTimeshareExitReviews.com and its partners permission to contact me about this and other future offers using the information provided. This may also include calls and text messages to my wireless telephone numbers. I also consent to use of emails and the use of an automated dialing device and pre-recorded messages. I understand that my permission described overrides my listing on any state or federal 'Do Not Call' list and any prior listing on the 'Do Not Call' lists of our partners. I acknowledge that this consent may only be revoked by email notification to info@mytimeshareexitreviews.com.
FREE Timeshare Exit Guide
Mexican Timeshare Solutions Cost
Free Timeshare Exit Cost Assessment