Resolution Timeshare Cancellation
Resolution Timeshare Cancellation is a timeshare exit company with offices in Orlando, Florida, and Madison, New Jersey. The company has been in business since 2019. The company labels itself as the "Timeshare Cancellation Company without the sales hype." This statement by Resolution Timeshare Cancellation is interesting because most timeshare exit companies do employ sales representatives that charge timeshare owners drastically high prices to exit their contracts. 
As our team reviewed the website, the first thing we came across is the no up-front fee required. The company states it offers a real no up-front fee escrow option, so they don't get paid until you get your official release. As we mentioned countless times before, escrow can be very beneficial. Escrow eliminates up-front fees for owners that are skeptical about the timeshare exit process.
There are very few companies that have a valid 100% money-back guarantee, so our team always recommends playing it safe and go with a company that provides escrow. Nobody likes losing thousands of dollars! There are few things every timeshare owner should be aware of before working with any timeshare exit company, initiate a Live Chat or fill out the form on the right to protect yourself from timeshare scams.
Resolution Timeshare Cancellation Reviews
Overall, Resolution Timeshare Cancellation reviews are positive. The company has a dedicated "our attorney" page that goes into detail about Myron G. Lasser. Myron is the attorney used by Resolution Timeshare Cancellation and is a former attorney general of New York. In other words, the company has a robust legal presence. We always recommend companies that utilize attorneys in the timeshare exit process, having an attorney help with cancellation is beneficial on its own. Would you rather trust a legal document or someone's word?
The website has a detailed FAQ page. On this page, the company states that some timeshare companies will release you without hiring a cancellation firm. This is true, and we have mentioned various timeshare companies in our other article that have exit solutions for owners looking to exit their contracts. Before you pay a timeshare exit company, contact your timeshare developer to see if you can get out legally! Resolution Timeshare Cancellation also claims they employ industry executives and founders of some respected cancellation firms. 
The company has a "Things you need to know before you cancel your timeshare" article that goes into detail about the common exit practices used by other timeshare exit companies. Resolution Timeshare Cancellation reviews and website states the foolproof way to rid yourself of a timeshare is to cancel a contract legally. Timeshare exit companies usually go after the resort based on omissions of facts and misrepresentations you faced during your purchase. Our team agrees with the statement made by Resolution Timeshare Cancellation. Taking the risk and working with a company that does not legally help you exit your timeshare can cost you thousands of dollars.
Another interesting statement made by the company was even if you are able to sell the timeshare on eBay for a dollar, you are entitled to all the fees and payments if the buyer stops making payments. In other words, you will always have the responsibility of your timeshare, even if you sell it. Our team agrees with Resolution Timeshare Cancellation, and the company gets a +1 from us. 
The company states it can take up to 10-14 months to exit your timeshare contract, and in some rare occasions, it can even take a matter of weeks. The process to cancel your contract was not explained on the website, but from the information our team has gathered, we can conclude the company will ask various questions to determine if they can accept your case. Then the company will assess a course of action. We recommend getting everything in-writing before signing the contract. Below is a statement directly from Resolution TSC, and our team agrees 100%. 
Resolution Timeshare Cancellation Cost & Fees
As with other timeshare exit companies, Resolution Timeshare Cancellation does not provide the fee they charge for their services. The company, however, does state they have a no up-front fee escrow option, and if you decide to pay the up-front fees over escrow, you'll get a hefty discount. As our team analyzed the website, the company has the option to make a payment through PayPal for "timeshare cancellation with a mortgage," and "timeshare cancellation without a mortgage." From this information, we can conclude different flat fees are assessed based on the amount if you owe a mortgage or if your timeshare is paid off. The company may charge a flat fee for timeshares with a mortgage and a different flat fee for timeshares that are paid off. Always haggle the price, it can only benefit you!
Resolution Timeshare Cancellation Ratings
The company is not accredited by the Better Business Bureau (BBB) but has an A- rating with one five-star review. The company does not have any Trustpilot or Yelp reviews. The company is relatively new, so it is expected they will not have a lot of reviews. Our team has assessed the company a 4.5/5.0 MyTER Rating. The basis of this rating is on the "true" no up-front fees option provided by the company and the transparency on its website. The company, on numerous occasions, includes valuable information that timeshare owners can utilize. New timeshare cancellation companies can be alarming, so our team recommends reading through the contract and getting everything in-writing before committing. 
Overall, Resolution Timeshare Cancellation is a reputable company. A company that offers no up-front fees is always a +1 from our team, who wants to pay thousands up-front anyway? Have questions? Contact our team so we can help you determine if a timeshare exit company is legitimate, and we recommend working with timeshare exit companies that offer escrow, so you pay no up-front fees. Know your legal right so you can exit your timeshare contract.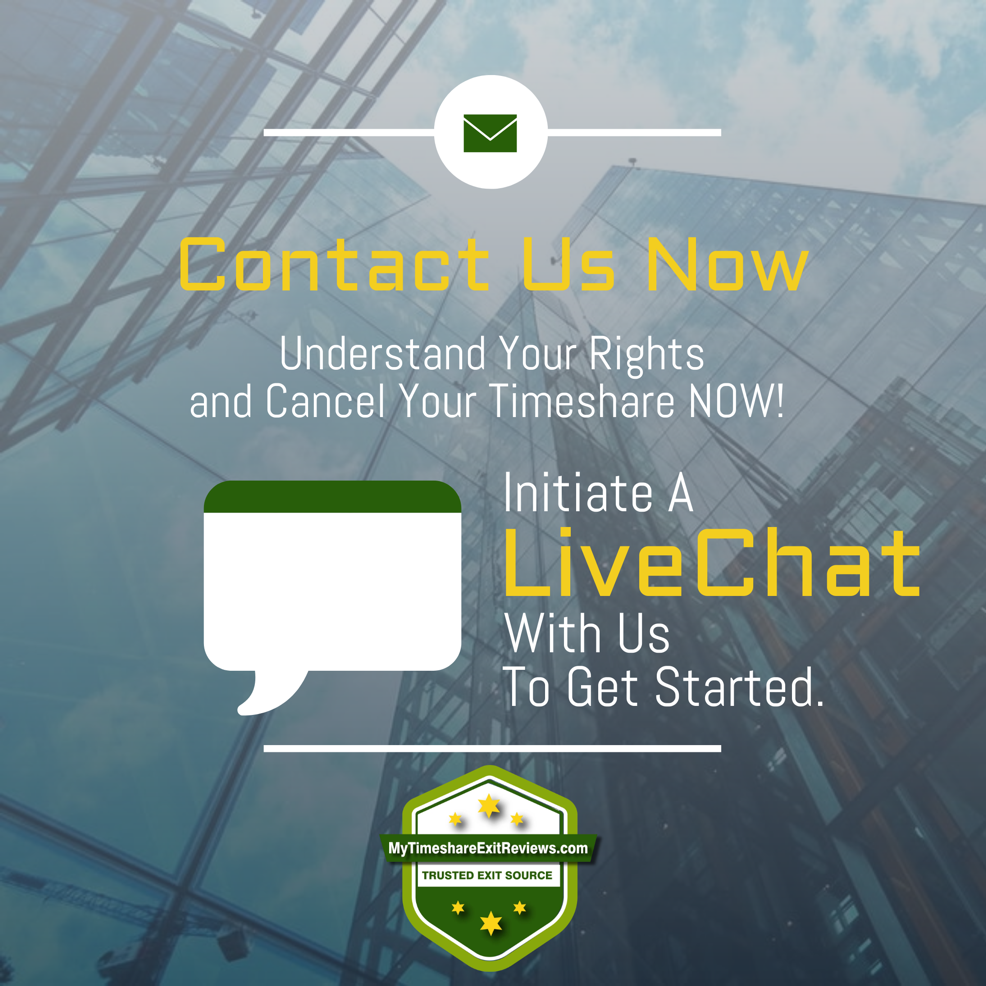 There are no reviews yet. Be the first one to write one.
Free Informational Consultation
By providing my contact information and clicking 'submit', I am giving MyTimeshareExitReviews.com and its partners permission to contact me about this and other future offers using the information provided. This may also include calls and text messages to my wireless telephone numbers. I also consent to use of emails and the use of an automated dialing device and pre-recorded messages. I understand that my permission described overrides my listing on any state or federal 'Do Not Call' list and any prior listing on the 'Do Not Call' lists of our partners. I acknowledge that this consent may only be revoked by email notification to info@mytimeshareexitreviews.com.
FREE Timeshare Exit Guide
Timeshare Laws Regarding Cancellation
Free Timeshare Exit Cost Assessment