How To Cancel A Timeshare Contract
Cancelling a timeshare contract can be a complex process, but this guide will provide you with valuable insights on the options available. Discover how to exit your timeshare contract without the stress. Eliminating a timeshare contract can be done through several methods. These methods include:
Make use of "the rescission period" provided to every timeshare owner when they sign the contract.
Utilise the Buy-back program. Though this program is not offered by a lot of timeshare companies nowadays, there are still a few that do offer it.
Exchange programs are also being offered by timeshare companies, but they will not help you eliminate the contract.  
Sell off your timeshare property by yourself. 
Rent out your timeshare if the timeshare company permits. 
Hire a timeshare lawyer to help you navigate the process of exiting your timeshare contract.
Hire a timeshare exit company to assist you through the procedure of eliminating your timeshare. 
These are the options to get out of your timeshare contract. Continue reading to learn more about these methods and have a step-by-step guide. 
Discussing Cancellation Methods
The Rescission Period
The rescission period, also known as the cooling-off period, is when one can eliminate their newly purchased timeshare property within 3 to 15 business days. This will help the owner eliminate the timeshare without bearing a single penny. This is the simplest and easiest method of all. To learn more, keep reading;  
The rescission period of a timeshare contract is standardly mentioned at the start or end of the contract documents. 
Being mindful of the timeshare contract is crucial to avail oneself of the rescission period. 
The rescission period will help you exit your timeshare contract without enduring any additional costs. 
The rescission period varies nationwide as the rescission laws differ for different locations. 
It can last up to a month, but the rescission is usually 3 to 15 days. 
Comprehensing the contract can be a gruelling task. Seek help from a timeshare lawyer, or contact us so we can help you understand it.
After uncovering the rescission period of your timeshare contract, start writing the rescission letter. 
The rescission letter will help you inform the developer of your issues.
Addressing the reason for cancelling the timeshare contract through your rescission letter is important. 
For further information about the rescission letter, such as the format, read the article: The Rescission Letter. 
Buy-Back Program
A Buy-Back Program refers to an offer the timeshare company makes to take back your timeshare by paying a few fewer dollars, or in a few cases; they might pay you the same price you bought the timeshare at. 
A handful of timeshare companies offer a buy-back program.
A buy-back program is referred to when your timeshare developer buys back the timeshare even if the rescission period has ended. 
The money you receive from utilising the buy-back program is based on the clauses of your timeshare contract.  
Contact your timeshare company or their customer service department to get more information about the buy-back program. They will let you know whether they offer this program and, if they do, how you can benefit from it. 
Exchange Program
Exchange programs are offered by most of the timeshare companies now. According to the program, you can exchange your timeshare with another one owned by the same timeshare company in a different location. 
Through the exchange program, one can not exit one's timeshare contract.
Exchange programs are offered to explore more destinations when timeshare owners are tedious to one. 
Most of the timeshare companies offer this program, so if your issue revolves around this area, you can exchange your timeshare property. 
For more information on the exchange program, contact your timeshare developer. 
How To Sell Your Timeshare By Yourself?
Selling off a timeshare property can be onerous. You need to take calculated steps to sell your timeshare property by yourself. Selling your timeshare requires patience and hard work, as it is a prolonged process. 
The initial task is to evaluate the current value of your timeshare. 
To achieve that, you must weigh up the current market of timeshare properties.
Compare your timeshare with similar properties. Similar in terms of size, location, amenities, etc.
Upon assessing the worth of your timeshare, settle down for a fair price. 
Listing the timeshare property on resale websites is the next step to take. 
Websites such as eBay and SellMyTimeshare will take you through the listing process of your timeshare property. 
An impressive description and good-quality property images will help you attract potential buyers. 
Be mindful that the process of selling your timeshare property on your own can be arduous and stressful. Do not lose hope, and keep trying if you truly want to get rid of your timeshare. 
Contacting our team can save you the hustle of selling your timeshare by yourself. Our team will aid you throughout. 
Renting out your timeshare requires permission from the timeshare company. Certain timeshare companies do not allow their owners to rent out their property due to the chances of getting it damaged by the renter or many other reasons.
The approach to renting out your timeshare is similar to selling it.
Evaluate the value and put a price on the property. 
List it on rental websites and start looking for renters. 
Corroborate that the renters you choose are trustable, so they do not damage your property in any manner. 
Visit the property when the renters are using it; if you are unavailable, inspect it after they leave to look for any damages. This will help you hold them accountable for the desecration.  
Contacting an attorney is also a great option if you need more time to concentrate on selling your timeshare property. Feel free to contact an attorney when dealing with timeshares. An attorney knows the ins and outs of the timeshare industry. 
An attorney working in the industry will know what to do with your timeshare contract. 
They will guide you about the procedure's legalities and ensure you take the right steps. 
But before hiring an attorney, ensure they have worked in the timeshare industry and have a good reputation. Research is a crucial step.
You can even donate your timeshare property. But donating your timeshare takes a lot of work. We know you think giving away the property for free should be easy, but that's not the case. 
Timeshare properties require a lot of attention and money, of course. Charities mostly cannot pay the expenses of a timeshare property, so they refrain from accepting them. 
But trying does not hurt! You can still donate the property; you might be successful.
Hire A Timeshare Exit Company
Hiring an exit company is the most advisable option. Reputable exit companies can eliminate your timeshare contract faster than you ever could. Legitimate exit companies with a good reputation in the timeshare industry can successfully eliminate your timeshare contract.  
Exit Companies will help you terminate your contract by finding loopholes or using other legal clauses. 
They will make you understand your legal rights and help you utilise them correctly.
They can also resale your property by promoting it on their websites and presenting it in the market. 
It is easier for them to resale the property as they already have connections in the market, which may make the resale procedures easier for you.
If the abovementioned options do not work out for you, contact an Exit Company to eliminate your timeshare. 
Exit companies help people get out of their timeshare contracts. They can help you terminate or transfer your timeshare ownership. 
These companies have gained recognition in recent years as many people are bearing losses or have been scammed recently by timeshare contractors. 
You must act quickly if the contractor scammed you or did not mention important details about your timeshare property.
These are the most common benefits exit companies can provide if you want to eliminate your timeshare contracts. 
However, checking and researching thoroughly before approaching any exit company is crucial, as frauds and scams are common in these scenarios. 
Ensure that the company you are thinking of working with offers escrow. Escrow eliminates any doubts a timeshare owner may have when looking to exit their contract. 
Read through Timeshare Exit Company Reviews to avoid scams and work with a legitimate company.
Few Things To Steer Clear Of When Dealing With Timeshares
There are a few things people do that they think will help them get rid of their timeshare, but these majors do more harm than good. Stopping your payments, being afraid to hire an attorney and thinking that selling a timeshare is an easy job are a few discussed below. 
Never stop making your timeshare payments. The only thing you can achieve through defaulting is problems. 
Not making payments of timeshares can hurt your credit score as well. Late or missed payments will have a bad effect on your credit report. 
This will make it difficult for you to receive credit in the future. Timeshareshare companies can take legal action against you as well. 
If you have tried everything to eliminate your timeshare property but need something to work out for you, seeking legal help is the right step.
An attorney may cost you a bit, but they can save you from many expensive mistakes. 
They can understand your contract better than anyone else. 
An attorney specialising in timeshare law will help you understand your legal rights, guide you through the exit strategy, protect you from scams, and review all the necessary documents and other measures.
Engaging an attorney will give you peace of mind as they will ensure you get the upper hand in every matter. But before hiring an attorney, ensure they have worked in the timeshare industry and have a good reputation.
You can eliminate your timeshare contract legally with the help of an attorney.
Timeshare owners often think selling off the timeshare will be easy, but we hate to break it to you, but it is certainly not.
Some timeshare companies have restrictions on resale, like having their permission before selling it or giving them the right to choose the buyer, so it is essential to contact the company before deciding on your timeshare property.
It is always challenging to sell a timeshare property, so you need to be patient and persistent to get a good deal for your property. 
We help timeshare owners find the best timeshare exit company for their situation. Our team recommends working with legitimate timeshare exit companies that offer a no-up-front fee escrow option.
Moreover, here are a few things one should take into account when trying to eliminate their timeshare contract;
The rescission period, commonly known as the cooling-off period, is the least problematic way to exit your timeshare contract. 
If the rescission period of your timeshare contract is still valid, save time and start writing the rescission letter.
The rescission letter should be on point. All the reasons for cancellation should be mentioned in great detail, and the format should be professional.
You can get help from a timeshare lawyer or contact us to help you write the letter if you think you will need help with writing it adequately. 
Secondly, when hiring an exit company, ensure they do not demand up-front fees. 
According to our team of professionals, timeshare exit companies offering escrow are the most trustworthy ones. 
When a timeshare exit company offers escrow, a third party holds your payment till the exit company successfully eliminates your timeshare property. 
This provides assurance and peace of mind to the customer.
Even if the exit company goes out of work at some point, your money is safe with the third party.
The charges of exit companies can come down if you negotiate correctly. Or you can contact our team to help you bargain. 
Escrow eliminates any doubts a timeshare owner may have when looking to exit their contract. 
If you have prior experience in the timeshare industry and know reputable exit companies without the option of escrow, you can also hire them. But, if you are new to all of this, going with the option of escrow is the safest.
With this being said, we hope this article helped increase your knowledge about the various cancellation methods of a timeshare contract. You can contact us anytime to know more about any timeshare-related queries.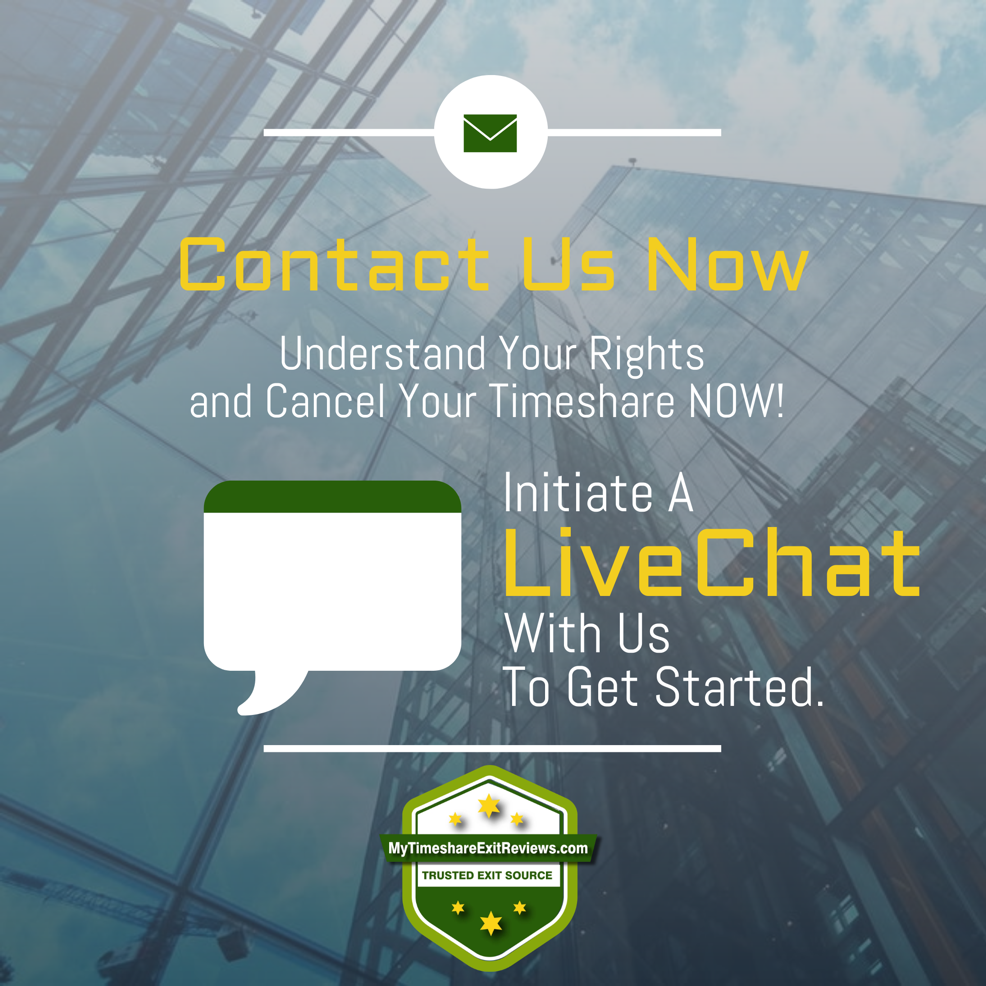 There are no reviews yet. Be the first one to write one.
Free Informational Consultation
By providing my contact information and clicking 'submit', I am giving MyTimeshareExitReviews.com and its partners permission to contact me about this and other future offers using the information provided. This may also include calls and text messages to my wireless telephone numbers. I also consent to use of emails and the use of an automated dialing device and pre-recorded messages. I understand that my permission described overrides my listing on any state or federal 'Do Not Call' list and any prior listing on the 'Do Not Call' lists of our partners. I acknowledge that this consent may only be revoked by email notification to info@www.mytimeshareexitreviews.com.
FREE Timeshare Exit Guide
Timeshare Laws Regarding Cancellation
Free Timeshare Exit Cost Assessment